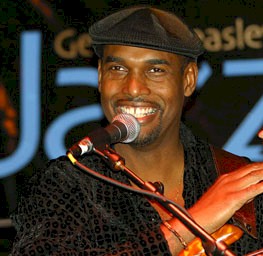 Artist Profile:
Gerald Veasley
Born in Philadelphia, Gerald Veasley has a varied and impressive resume' that includes recording and/or stints with Joe Zawinul of Weather Report, his longtime friend and mentor, the late Grover Washington Jr., McCoy Tyner, The Dixie Hummingbirds, Odean Pope, Special EFX, Joe McBride, Teddy Pendergrass, Phil Perry, Chieli Minucci, Dianne Reeves, George Howard, Philip Bailey of Earth, Wind & Fire, Kenny Blake, Pamela Williams, Eric Marienthal, Onaje Alan Gumbs, Omar Hakim, and many more.
He has shared stages and tours with Miles Davis and Dizzy Gillespie. Gerald was recently named "Best Electric Bassist" in Jazziz magazine's annual readers' poll and Philadelphia Magazine named him Best Jazz Band. Veasley was nominated and voted as President of the Philadelphia charter of NARAS "The Grammy People" and is credited by author Allan Slutsky as a key contributor to his classis book/CD set, "Standing In The Shadows Of Mo-Town – The Life and Music Of Legendary Bassist James Jamerson". He started playing the bass at age twelve and recalls learning a great deal from in-home jam sessions with friends of his musically inclined parents.
He was inspired by his parents' hard work and sacrifices as they gave him a good stable home life and appreciation of education. As an outstanding academic high school graduate he earned a complete four year full academic scholarship to the University of Pennsylvania. During his third year, Veasley lost his father. To deal with the loss, he focused on music, listening to records featuring Charles Mingus, Wes Montgomery, Grand Green and Ron Carter.
These all-night affairs would also include Veasley teaching himself how to improvise, transcribe solos and studying chord progressions. Veasley took up studying classical guitar to expand his range as a musician. "There were several factors which led me to choose music as a profession," he says. "Basically, it always moved me emotionally and offered me a way to express things I couldn't find words for. When my father died, I had a hard time coming to grips with the trauma, and music proved very therapeutic." The mostly high-profile sideman gigs came in rapid succession for Gerald starting in the early Eighties.
Depending on who he was hooked up with, he displayed a starting affinity for all sorts of styles. He played avant-garde music with saxophonist Odean Pope, did orchestra dates with the flutist Leslie Burrs, and joined violinist John Blake's
group for a U.S. tour and three albums on Gramavision. In 1988, Gerald showed his fusion side as part of the Zawinul Syndicate, and through the years since, he has been affiliated with a wide array of distinctive players – Larry Coryell, Khan Jamal, Eric Kloss, Pat Martino, Charlie Rouse, Jamaaladeen Tacuma, McCoy Tyner, label mate Joe McBride, Special EFX and pieces of A Dream.
Gerald's resume also boasts numerous other accolades. He was voted "Talent Deserving Wider Recognition" in every Downbeat critics' poll from 1983 through 1992. He was most recently named "Best Bassist" in Jazziz magazine's 1999 annual readers poll. He has also taught the history and fundamentals of the electric bass to musicians and educators, both privately and at the university level. He has been artist in residence at the Artist-Teachers institute of Stockton State College; guest lecturer at Dartmouth; instructor at Philadelphia's University of the Arts; and video instructor on "Solo Bass Techniques" released by CCP Baldwin.