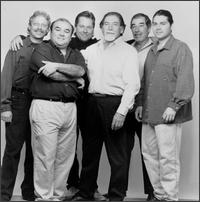 Artist Profile:
Estrada Brothers
Although the Estrada Brothers have had their group for decades, it was not until 1997 that they had an opportunity to record for a major jazz label. The band started in the mid-'50s and was founded by Ruben, Henry and Angel Estrada.
The brothers grew up in Oxnard, California and were inspired by the jazz meets Latin music of Cal Tjader, Stan Kenton and Tito Puente. Ruben (who originally played trumpet and drums) plays vibes in the style of Tjader while Henry plays saxophones and flute; Angel left the band in the 1970s. Raul Rico Jr. became the group's percussionist in 1976 and in 1986 the group solidified with the addition of Ruben's son Cougar on drums, pianist Joe Rotondi, Jr. and bassist Malcom Ian Peters. In 1995, the band
finally made its first recording, About Time on their Rumba Jazz label. The success of that CD resulted in Milestone signing the Estrada Brothers and recording Get Out of My Way in 1997.
One of the most conspicuous musical success stories of the decade, The Estrada Brothers have proven that total creative commitment, hard work and determination really can take a band all the way to the top and keep them there.
Now a local staple on the LA music scene, their great songwriting and seamless ensemble playing has brought the Ventura-based ensemble to the peak of their profession, as well as creating enough momentum to catapult them into the New Year with some of the best music of their career.
The Fantasy Records release "Get Out Of My Way" has brought not only the band back full circle with their eclectic mixture and unrelenting influences, but Latin Jazz in general. Self sponsored touring has earned them a fervent following not only across Northern, Central, Coastal, and Southern California but all the way to New York.
The group regularly performs every musical function and their intense, high-energy concerts have made them one of the most popular live draws in the world of Latin Jazz.
I never dreamt that I'd be doing what I'm doing now," confesses Raul Rico, Jr., conguero and percussionist for the Estrada Brothers. Indeed, Rico, who also serves as manager for the longstanding Southern California Latin-jazz sextet, notes that his fellow band members had to be convinced that they truly had a contract to cut their Milestone debut, Get Out of My Way. "I'm basically the coach and the psychiatrist for the band," Rico explains. "And they didn't believe that this was really happening until we got off the plane in Oakland and were actually recording in the Fantasy studio in Berkeley." It may have taken the band a moment to mentally prepare itself for the date, but the results from the fiery opening of Chano Pozo and Dizzy Gillespie's classic "Tin Tin Deo," through the cool mambo of "Blue Moon" and revamped groove of Kenny Dorham's "Blue Bossa," to the tight salsa snap of "Mi Guaguanco" prove that the Estrada Brothers have been ready to make this move for years. The group originated in the mid-1950s as the family project of three brothers, Ruben, Henry, and Angel Estrada.
Growing up in Oxnard, California, a largely agricultural town located about midway between Los Angeles and Santa Barbara, the Estradas absorbed a wide variety of popular West Coast sounds. But it was the melding of Latin rhythms, jazz harmonies, and improvisation taking place in the music of Stan Kenton, Tito Puente, and especially Cal Tjader that inspired the brothers to put together their own band. Accomplished on both trumpet and drums, Ruben added vibes to his arsenal and gave the Estrada Brothers a signature sound in the Tjader tradition. "Ruben loves Tjader," Rico notes, "but when he plays it doesn't come out like Cal, it comes out in his own style." Although Angel left the group in the 1970s for a career in real estate, Ruben and Henry, on saxophones and flute, maintained the family musical ties and gradually built the band into the formidable unit that appears on Get Out of My Way.
Raul Rico, Jr., who had been hanging around the band for years, joined the brothers 20 years ago. "We go back a ways. I've been affiliated with the Estrada Brothers since 1976 but you could say," he adds with a chuckle, "I've known them since before I was born they played at my mother's wedding shower. They were one of the very first bands I saw live, up close, and I was never the same after that." From banging on a tambourine, he progressed to his crucial role as Latin percussionist and career catalyst. "It was fate," says Rico, who has worked as a music journalist and hosts the long-running salsa and Latin-jazz program "Onda Latina" on Santa Barbara's KCSB-FM. "It was meant to be.
We're one big family." The current lineup, which includes Ruben's son "Cougar" (Ruben Estrada, Jr.) on drums, Joe Rotondi, Jr. on piano, and Malcolm Ian Peters on bass, has been together since 1986. "We basically blanket Southern California," Rico explains. "We have played every kind of gig, from Jewish and Greek weddings to bar mitzvahs and banquets." But while several of the members maintain day jobs to supplement their rigorous performance schedule, and Cougar also plays in the rock band Spencer the Gardener, the band is becoming better known on the jazz club circuit as well. And it was to capitalize on their growing popularity that Rico produced the Estrada Brothers' first self-titled tape in 1989. After that, Rico committed himself to more completely capturing the essence of the band on CD. "We've assimilated a lot of styles," he explains, "but the one style that is our forte is Latin-jazz." For three years he worked on producing and putting out the first official CD by the Estrada Brothers.
"I became obsessed," Rico says, "I couldn't go back." Finally, in the spring of 1995, About Time appeared on the Rumba Jazz label. While on vacation in the San Francisco Bay Area, Rico visited with some fellow jazz and Latin radio programmers, and before long, About Time was circulating at Fantasy, where it was heard by John Rogers, Kirk Roberts, and producer Eric Miller. Combined with Ruben Estrada's stellar exposure on Poncho Sanchez's Soul Sauce: Memories of Cal Tjader, the mature and sophisticated rsum presented on About Time catapulted the Estrada Brothers into position to record Get Out of My Way. "Eric Miller made suggestions in terms of material," Rico says, "but we were given complete creative freedom. There were songs in our repertoire that we knew would fit perfectly.
'Blue Moon' was something we played on a casual gig but because of the way it came together, I knew it we would have to record it some day. It's one of my favorites on the CD because it has our signature colors and phrasing." Get Out of My Way is rife with distinctive Estrada Brothers touches, revitalizing such staples as "The Good Life," "Besame Mucho," and "Nica's Dream" and revealing a fresh compositional approach on the original "Nu Image" and "Sueño." Ruben even takes a turn at lead vocals, supported by the rest, on the boogaloo-style title cut anthem.
"We're constantly trying to spice up our interpretations," Rico says. "I'm inspired by conga players like Mongo Santamaria, Carlos 'Patato' Valdez, and Luis Miranda, but when I play, I sound like myself. It's the same with the band. When you play music, you become like a chef; you take all these different ingredients and use a little bit of this, a little bit of that. Eventually, your stew is all your own." In some ways, Get Out of My Way is the culmination of 40 years of experimentation with a time-honored recipe. But it also represents the first step toward the recognition of the Estrada Brothers as one of the first families of Latin jazz.