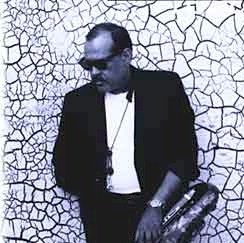 Artist Profile:
Ernie Watts
"His more recent work reveals him to be an intense and masterful jazz improviser who has developed his own sheets of sound approach along with a distinctive and soulful sound, Ernie Watts has developed into one of the most powerful of tenormen with complete control over his horn and the ability to bring intensity and passion (plus taste) to any musical situation." Scott Yanow / All Music Guide Two-time Grammy Award winner Ernie Watts is one of the most versatile and prolific sax players on the music scene today.
In a diverse career that has spanned some 30 years, he has been featured on over 500 recordings by artists ranging from Frank Zappa to Thelonious Monk. Although he is quick to point out the inspiration of John Coltrane, Watts has always had his own trademark sound, uplifting sessions, no matter what the genre.
His passion for acoustic jazz has blossomed into a full-time commitment to the music. His body of work for the audiophile Japanese label JVC Music showed the world what Los Angeles already knew. After the day's studio work was done, Watts could often be heard playing fiery jazz at late-night clubs.
Watts first picked up the saxophone at age 13
and eventually won a scholarship to the Wilmington Music School in Delaware, where he studied classical music. Although he would enroll at West Chester University en route to becoming a music educator, he soon won a Downbeat Scholarship to the Berklee College Of Music. When Gene Quill left Buddy Rich's band, trombonist Phil Wilson (a teacher at Berklee) was asked to recommend a replacement, and Watts got the job.
Watts departed Berklee for the important stint with Rich's big band (1966-1968) before moving to Los Angeles. Once situated in southern California, Watts worked in the big bands of Oliver Nelson and Gerald Wilson and became a staff musician for NBC, performing regularly with The Tonight Show Band. Throughout the 1970's and 1980's Watts' signature sound found its way on to the recordings of music's biggest names.
A partial list of his credits includes Cannonball Adderley, Quincy Jones, the Rolling Stones (including their 1981 tour and film Let's Spend The Night Together), Frank Zappa, Carole King, Neil Diamond, Aretha Franklin, Diana Ross, Rickie Lee Jones, Whitney Houston, Steely Dan, T-Bone Walker, Chaka Khan, Billy Cobham, Pat Metheny, Lee Ritenour and Patrice Rushen among many others. He has appeared on many film and television scores (including The Fabulous Baker Boys, Ghostbusters, Tootsie, Arthur, The Color Purple, Fame, Night Court, Benson and Dynasty). His own recordings in the pop/crossover field include his version of Chariots Of Fire, which in 1983 won a Grammy Award for Best Pop Instrumental.
The artist went on to capture a second Grammy in 1985 for Best Rhythm and Blues Instrumental, honoring his Qwest/Warner Bros. recording, Musican. After years in the studios, Watts now chooses a different path for his creativity. Although he takes occasional session work, the breadth of his musical activities has grown. He plays and records regularly with Charlie Haden's award winning Quartet West (a group also including pianist Alan Broadbent and drummer Larance Marable), and on occasion sits in with Haden's Liberation Music Orchestra. In addition to keeping The Ernie Watts Quartet active with concert appearances, Watts travels the world conducting music workshops for all student levels.
He has also compiled a collection of orchestral arrangements, which he uses as a guest soloist with symphonies around the country. Watts eclectic mix of career activities has expanded in almost every direction and the artistic evolution is far from finished. Watts' hearty tone and melodic improvisations keep him in demand by artists such as Billy Taylor for "Jazz at The Kennedy Center" and Mark Isham for a live performance of the film score from "After Glow." He joined Gene Harris for his last recording "Alley Cats" recorded live at Jazz Alley in Seattle. For Ernie Watts, all of his past success, and all that the future has to offer comes down to just one thing – playing the music. "Whatever I play, whenever I play, whether it's on stage or in the studio, by myself or in front of an audience, whenever I pick up my instrument, the music is the priority.