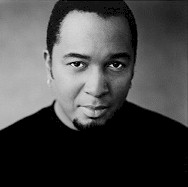 Artist Profile:
Dwight Sills
Combining jazz, funk, pop and urban influences with some tasty splashes of world beat exotica, guitarist Dwight Sills forges ahead with a new and refreshing creative vision that reflects his growth as a writer and performer over the years since he first appeared on the instrumental scene.
Fans of his breakthrough 1990 hit cover version of Babyface's "Whip Appeal" (from Sills' self-titled Columbia debut) will find the new, original material right in that accessible pocket, while today's contemporary jazz audiences will also appreciate Sills' amazing sense of harmony and rhythmic diversity.
Sills has become one of the industry's most durable sidemen, recording or touring with Wayne Henderson & The Next Crusade, Kirk Whalum, Anita Baker, Richard Elliot, Brenda Russell, Rick Braun and Boney James. He is also a first call R&B session guitarist, playing most notably on numerous projects for Babyface, including TLC's monster hit "Red Light Special" from CrazySexyCool. As a songwriter, Sills spread his wings with a publishing deal in 1997, writing alternative vocal pop music. "I'm part rocker, part jazz fusion player, and definitely into soul music after learning to play along with Motown hits on my first instrument, drums," he reflects.
"But growing up, I also listened to the Beatles, Stones, Hendrix, Deep Purple, Yes and Emerson, Lake and Palmer, so there was tons of pop and progressive inspirations going on. "I also developed a great respect for the jazz greats of different eras, and my playing and composing styles were very much influenced by George Benson, Charlie Parker, Miles Davis and John Coltrane.
But I never want to complicate the listener out of the tune. I write pieces that are strong in melody – tunes that people can relax into before I slip in some subtle complexities. I think people like music that feels familiar and yet is also new and fresh." Professionally, he got his feet wet in the burgeoning Houston music scene (where he lived throughout much of the 80s), and he played for several years with a jazz ensemble called Axis before another Houston transplant, Kirk Whalum, helped connect Sills with Columbia Records.