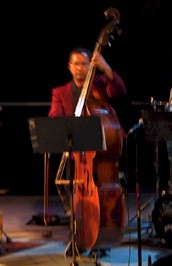 Artist Profile:
Dean Taba
Now a highly regarded studio and freelance musician, Dean Taba began his musical studies on the piano at the age of 6 and played french horn in the Hawaii Youth Symphony. It was a desire to play in the high school jazz band that introduced him to the bass and improvised music. After extensive studies at the Berklee College of Music in Boston and a refinement of his skills on both the acoustic and electric bass, Dean relocated in 1984 to Los Angeles to become one of it's most in demand musicians. Also a respected clinician and educator (Los Angeles Music Academy, Musician's Institute, Cal-Poly Pomona, Grove School of Music) Dean has recently performed/recorded with David Benoit, Andy Summers, Sadao Watanabe, The San Francisco Symphony, Hiroshima, Rick Braun, The American Jazz Institute Orchestra, Dave Koz, Jeff Richman, The Philippine Philharmonic Orchestra, Kilauea, Bill Watrous, and many others as well as playing on countless CDs, TV shows, and movie sound tracks.
In spite of his busy schedule, Dean is always sure to devote time to writing music for his own projects, one of which has just released a self titled CD, More Is More. This innovative jazz ensemble utilizes an unorthodox instrumentation of two drum sets, trumpet, sax, and bass.
Dean emphasizes, "I am grateful for every opportunity to make and share music". Bassist Dean Taba has made quite an impression on the L.A. Jazz scene in a decade of straight-ahead gigs with the best and brightest of our local artists. His walking bass leads this session of innovative originals. Recorded last August at The Baked Potato and at the Los Angeles Music Academy, Taba's program features two drummers: one on the left and one on the right. Fortunately, the mix keeps both rhythm masters in perspective.
Tenor saxophonist Andy Suzuki and trumpeter Steve Huffsteter provide the melody, as well as mood-defining harmonies. The two drum sets give Taba's session a driving spark. Both Kendall Kay and Tim McIntyre enhance from the sides. Dave Allen narrates a unique, improvised piece about living in L.A.
Taba leads with the force of Charles Mingus, changing tempos as he wishes, when he sees fit. His "Think of Juan" is a piece inspired by the classic confrontation between Mingus and Juan Tizol one night when both were working with the Duke Ellington Orchestra.
With his extended composition, Taba captures that Mingus touch, which is always a joy to discover in modern jazz.