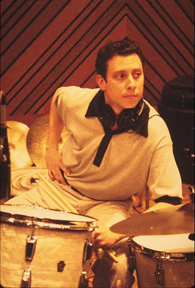 Artist Profile:
Daniel Glass
Daniel Glass grew up in Honolulu, Hawaii, and started playing drums at the age of eight. After obtaining a bachelor's degree from Brandeis University in Boston, Daniel continued his musical training at the Dick Grove School of Music in 1991. For the following two and a half years, Daniel worked as a freelance musician in Los Angeles, recording for a variety of independent labels and touring with jazz singer Barbara Morrison and veteran blues guitarist Debbie Davies.
He has been a student of master teacher Freddie Gruber since 1992. In 1994, Daniel brought his abilities to L.A. swing phenomenon Royal Crown Revue, the group that single handedly inspired today's "Neo-Swing" resurgence by combining 1940s style with modern raw power. As the result of an extremely successful stint as the original house band at the Derby Club in Los Angeles, the group was signed to Warner Brothers Records by super-producer Ted Templeman (of Van Halen and Doobie Bros. fame).
RCR's releases, Mugzy's Move (1996), Caught in the Act (1997), The Contender (1998 – on which Daniel co-wrote 5 tracks), Walk on Fire (1999) and Passport to Australia (2001) – have sold well over 400,000 units to date, keeping the band on a breakneck schedule of more than 200 shows a year through 2001.
Touring highlights with RCR include a headlining spot on the Van's Warped Tours '97 and '99 (with stops in Europe, Australia and Japan), a spot on the 1998 Playboy Jazz Festival, and national tours with The B-52's, Pretenders, and KISS.
The band performed with Bette Midler at the1998 Billboard Music Awards, and was featured in the nation's top jazz festivals (including Concord, Saratoga, Newport and JVC Lincoln Center). In September of 1999, RCR headlined two sold out performances with the 110 piece Hollywood Bowl Orchestra. Over the last two years, the band has continued to expand its horizons with successful headlining tours of Japan, Europe and Australia. With RCR, Daniel has kept busy in the world of TV and film, writing, recording and performing the "Dubba, Dubba WB" theme for the WB Network's '98/'99 season.
The group's music has been featured in everything from Jim Carrey's The Mask, to countless TV shows, movie trailers, ad campaigns, gymnastic routines at the 1996 and 2000 Summer Olympics, even behind Miss America contestants. TV appearances have included Buffy, The Vampire Slayer, Conan O'Brien, The Today Show, The Roseanne Show, Viva Variety (Com. Central), Tales from the Crypt (HBO), MTV's Rock-n-Jock B-Ball Jam and Swing Alive, a national PBS special (in which Daniel went head to head with Frank Sinatra's Gregg Field in a drum-battle version of
"Sing,Sing,Sing").
Currently, RCR's version of "Something's Gotta Give" is featured in the Jack Nicholson film of the same name, (set for release in December, 2003), and "Hey Pachuco!" can be heard in Mike Myers' "The Cat in the Hat", plus a forthcoming WB TV series "Wonder Falls." Outside of RCR, Daniel has performed and recorded with a variety of artists, including Bette Midler, Frank Sinatra guitarist Al Viola, the Michael Andrew Swing Orchestra, the Jimmy McConnell Big Band, Mike Ness (of Social Distortion fame), Johnny Boyd (of Indigo Swing), rockabilly legend Robert Gordon, Unknown Hinson, and the Industrial Jazz Group.
He has been profiled numerous times in Modern Drummer magazine (including the cover story, Dec. '98), and has been featured in DRUM!, Stick It!, and Drummerdude Magazines. October, 2002 marked the release of The Daniel Glass Trio's Something Colorful, the first CD on which Daniel acted as leader, drummer and producer. The CD is the flagship release for VeryTall Music, a label that Daniel co-founded with LA publicist David Millman (whose clients include Chicago, Boney James and Sheila E.). The DGT has toured internationally, with a Sept. '02 European tour, and an appearance at the Havana International Jazz Festival in Dec. 2002. A second VeryTall release (vibraphonist Eldad Tarmu's "Exotic Tales," also produced by Daniel), will be out in early 2004. In addition to his work on the bandstand, Daniel is an oft published writer and burgeoning music historian. Modern Drummer Magazine published his writings on the development of neo-swing drumming as a four part series, "Swingin' in a Modern Age" (July-October '99).
More recently, he has published history-based articles in Drum! ("Birth of the Backbeat," Jan. '04), and Stick It! (profiling drumming masters like Louie Bellson and Louis Jordan's Johnny Kirkwood, as well as the legendary drummers of Rockabilly). Daniel is a regular contributor to a variety of music websites, such as Learn2drum.com and Musician.com. He also wrote the foreward to MusicHound Swing Essential Album Guide. Since January 2000, he has done Swing oriented programming for online radio giant SonicNet/Mtvi, as well as Delta Airlines in-flight radio network.
July, 2002 saw the release of Daniel's first full length book, "The RCR Drum Transcription Book," a 56 page overview of five major historical drumming styles using examples from the Royal Crown Revue repertoire as illustrations. Daniel also put out his first instructional video, Principles of Swing Time in 2002. Currently, Daniel is preparing a new book "The Commandments of Roots Drumming", set for release in 2003. This book will be the first of its kind to combine six decades of drum history with instruction, interviews of legendary players and never before seen photos and other drumming memorabilia. The book will edited by Zoro (drummer with Lenny Kravitz and Bobby Brown among others), and published by Warner Bros. Publishing, the world's largest purveyor of music instructional materials.