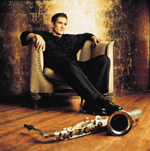 Artist Profile:
Curtis Stigers
With one of the most distinctive voices in music, the singer/saxophonist/songwriter pushes the boundaries of conventional jazz performers and expands the jazz repertory creating modern jazz standards. Curtis Stigers's latest release, I Think It's Going to Rain Today, is a new collection of songs by some of the greatest and most influential songwriters of our time. Putting his unique mark on tunes by Sting, Randy Newman, Mose Allison, Willie Nelson and Tom Waits, as well as two new Stigers originals, Curtis continues to blaze a path as one of his generation's finest and most original interpreters of modern songs.
"This is my niche, my specialty," says Stigers. "I have a great love and an eclectic knowledge of a wide array of songwriters and musical genres, and I know how to bring
them all together into one cohesive sound. I want to follow in the footsteps of my heroes. This is what Ella and Billie Holiday did. This is what Sinatra and Nat Cole did. This is even what Miles and Coltrane and nearly all of the great jazz artists have done.
They've taken the popular songs of their generation and created something new from them. I know a lot about Rock music and Alt Country and Urban Blues and Folk music and Punk Rock. So I use that knowledge. And that's what I'm steadily becoming known for."
Throughout his career, Stigers has been celebrated for a surprisingly wide variety of impressive accomplishments – from his early pop chart success with several self-penned, top-ten singles and hit albums and an appearance on the soundtrack for "The Bodyguard" (one of the biggest selling albums of all time), to Downbeat Magazine naming him as one of the jazz genre's "Rising Male Stars" and the London Times selecting his last jazz recording, You Inspire Me, as the number one album of 2003. He's toured the world in concert with such renowned pop artists as Elton John, Eric Clapton, Bonnie Raitt, and Prince, while also sharing the bill with such jazz greats as Nancy Wilson, Randy Brecker, and Toots Thielmans.
Stigers has performed his pop hits the on "The Tonight Show" and "The Late Show with David Letterman," and has been called "one of the best male jazz singers of his generation" by JazzTimes. His refusal to stand still, and his consistent desire to grow and evolve musically, has earned him admiration and recognition – and kept critics guessing. "What I'm after is a complex and ever-changing thing, which makes it difficult to define who I am. I sing beautiful love songs, but I'm not really a crooner. I write, but I'm not just a singer-songwriter.
I'm certainly a jazz singer but so much more, too. I grew up on Stevie Wonder and Sarah Vaughn, Johnny Cash and Led Zeppelin, Joni Mitchell and Coleman Hawkins, B.B. King and Elton John, Joe Williams and The Clash, Elvis Costello and Sonny Rollins, Tom Waits and Steely Dan, Louis Armstrong and Ray Charles, and on and on. That's who I am and there's nobody else like me. That's how I want my music to sound. Like me."
What distinguishes Stigers from many jazz singers today is his ability to craft and create beautiful music of his own. For I Think It's Going to Rain Today, he wrote two original tracks with Larry Goldings, the album's keyboardist and arranger, as well as Stigers's co-producer. "Our writing style is simple – Larry sends me a CD with some musical ideas, and I get to work writing lyrics for the ones I like. It's been a nice collaboration over the past seven or eight years." "Columbus Avenue" is a particularly special song for Stigers: "I met and fell in love with my wife in New York City, where we both lived for many years. She was dancing in a Broadway show at Lincoln Centre at the time, and we met at the fountain in front of the theatre for our first date. We walked up Columbus Avenue together, and by 79th Street I was in love. I never looked back. Coincidentally, later that night, we ended up at a jazz club uptown called Augie's, and who was playing? None other than the Larry Goldings Trio.
Romance and symmetry!" "Lullaby On The Hudson" is another song written from the heart, a love song for Stigers' daughter, Ruby. "When she was born we lived in a house overlooking the Hudson River, just north of New York. On Ruby's first night at home, after she was born, I stayed up all night with her in the nursery so my wife could rest. Ruby and I spent the night dozing and getting to know each other between bottle feedings, as the Hudson River iced over outside in the deepfreeze of February.