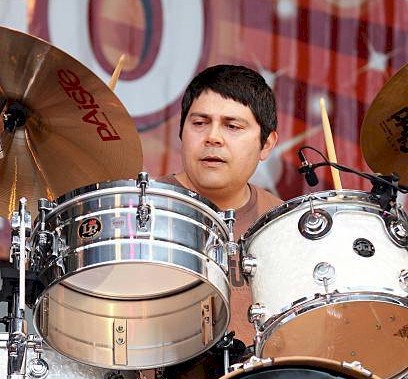 Artist Profile:
Cougar Estrada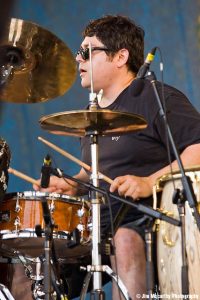 Ruben "Cougar" Estrada Jr. was not only born in the back seat of a 1967 mercury Cougar; he was born into the musical family of The Estrada Brothers Latin Jazz Sextet. He can remember going to see his fathers band (The Estrada Brothers) play at a wedding. He would sit on the side of the stage and play clave or cowbell along with his uncles.
Cougar was documented on The Estrada Brothers first CD recording in 1989 when he was only 19. He then recorded on Steal Big, Steal Little (Movie Soundtrack) featuring musicians Stephan Grapelli, Steve Gadd, Cachao, Albita, Paquito De Rivera, Arturo Sandoval and actor Andy Garcia just to name a few.
Recent live work includes touring the U.S. and Europe with Los Lobos , the Latin Playboys, Los Super Seven and travels to Guatemala and Japan with Michael Jackson's sister Rebbie Jackson.
In addition to his work on The Mennonite and Ballads, Cougar has recently recorded on new works by Los Lobos, The Estrada Brothers Latin Jazz Sextet, The Latin Jazz All-Stars featuring the best Latin Jazz Musicians in Southern CA, country artist Rick Trevino, The Mavericks' Raul Malo, and work with his own genre-defying group Conga Punks, and the debut of this his most recent production venture: Cougar Records.
Anyone who has the good fortune to hear Cougar play will experience the mind and sense-awakening imprint of his gift. Something bright and bold is happening here. Bringing you fully into the present moment and evoking a wide range of feeling states. If music is the voice of God, Cougar has the honed ability and the fearless surrender to deliver, giving it everything he's got. Like the powerful beauty of the movements of nature, his mastery is spontaneous, brilliant and profound.
Characterized by a one-pointed, steadfast commitment to his craft, Cougar's inventive approach to his music keeps him in ever deepening flows of creativity, busy with all phases of his many burgeoning projects. Whether he's producing, composing, arranging, shredding on drums, percussion, keyboards, guitar, or vocals, his grasp is astute. We are drawn to particular themes for certain doubtless reasons, as the power of music connects us to each other and the threads of our histories.