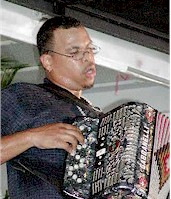 Artist Profile:
Brian Jack
Brian Christopher Jack is from Dayton, Texas and was born on August 10, 1979 to Eugene and Geneva Jack. At the young age of 13, Brian picked up his first instrument, the guitar. Having family members who were great musicians, it was a challenge for Brian to follow in their footsteps.
Brian's love and passion for Zydeco landed him a job in his uncle's zydeco band, The Zydeco Two-Step. While Brian was a sophomore in high school, he decided that he did not want to limit himself to the guitar so he picked up an accordion. With his dedication and commitment to music, he taught himself to play the accordion. Three months later, he formed his own zydeco band, Brian Jack and the Zydeco Two-Step.
Throughout the course of a year, Brian went through many musicians before his band eventually became Brian Jack and the Zydeco Gamblers. Today, Brian Jack and the Zydeco Gamblers consist of five members: Eugene Jack, Jr., Brian's brother, on drums and background vocals; Jody Lemelle, on rubboard and background vocals; Ben Black on lead guitar; Anthony Rowell on bass guitar; Brian Jack on accordion and lead vocals.
Brian Jack and the Zydeco Gamblers have played in Texas, Louisiana, Nevada, California, Washington and many other states.
Their media appearances include: Texas Justice on Fox, Weeknight Addition on PBS and many morning news shows. They have also performed at many major festivals including: The Big Easy Festival in Sparks, Nevada, The Original Southwest Louisiana Zydeco Festival in Plaisance, Louisiana, Zydecopalooza in Humble, Texas, The Original Zydeco Festival in Crosby, Texas, Conroe Catfish Festival in Conroe, Texas, and The Old Town Spring Crawfish Festival in Spring, Texas.