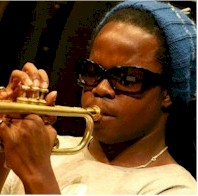 Artist Profile:
Ambrose Akinmusire
Ambrose's conceptual extension into a new musical language is never to the exclusion of beauty. As one who listens intently, he values the fertility of a pause, of communication, of tension. Ambrose began conceptualizing early as a musician, theorizing and experimenting as a catalyst for development. He seeks other genres of music to analyze and expose, drawing inspiration from such musicians as Bjork and Chopin. Ambrose's music restructures accepted notions of jazz in a way that reflects his ability to recognize nuances, multiplicities, and patterns.
First playing piano at the age of three, his familiarity with music began long before putting his mouth to a trumpet. He is relentlessly opposed to stagnation, seeking movement in both his music and his life. Before he was eighteen, Ambrose had already performed with such famed musicians as Joe Henderson, Joshua Redman, Steve Coleman, and Billy Higgins. After graduating Berkeley High School, he moved to New York to begin a full scholarship at the Manhattan School of Music, studying with Vincent Pinzerella from the New York Philharmonic, Dick Oatts, Lew Soloff, and
Laurie Frink.
Throughout his studies, Ambrose continued to tether audiences to his concepts and his sound, performing publicly with Lonnie Plaxico, Stefon Harris, Josh Roseman, Vijay Iyer, Charlie Persip, the Mingus Big Band, and the San Francisco Jazz Collective, to name only a few. His exposure to dynamic modes of playing and to musicians with accumulated experiences only promoted the development of his own distinct musical style.
Currently in a Masters program at USC, and a member of the Monk Institute, Ambrose's instructors include Terence Blanchard, Billy Childs and Gary Grant. In the past year, he has worked with such artists as Jimmy Heath, Jason Moran, Hal Crook, Bob Hurst, Terri Lynne Carrington, Ron Carter, and Wallace Roney, and performed in Vietnam with Herbie Hancock and Wayne Shorter. As for a conclusion, there is none. Ambrose's musical trajectory continues to grow in more than one direction, drawing from the most unconventional sources, unraveling the most comfortable conceptions of limitation.