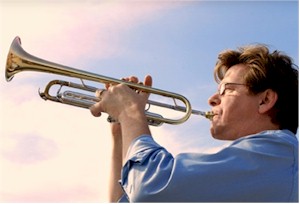 Artist Profile:
Wayne Bergeron
Wayne Bergeron is enjoying a career as one of the most active players on the Los Angeles scene. With studio dates, International touring, jazz concerts, guest soloist appearances and clinics he has no intention of slowing down.
In 1986 Wayne landed the lead trumpet position with the Maynard Ferguson Band. He can be heard on such MF recordings as "Body & Soul", Big Bop Nouveau" & "Brass Attitude." Remarking on the talented trumpet player, Maynard Ferguson had this to say during a radio interview: "Wayne is the most musical lead trumpet player I've ever had on my band." Bergeron's first solo Big Band CD entitled "You Call This A Living?" earned him a Grammy nomination in 2004 for Best Large Jazz Ensemble as well as rave reviews from fans and press world wide.
Wayne is a National Artist for the Yamaha Corporation of America who is in the final stages of releasing the WB signature model custom trumpet. Wayne enjoys his work as a clinician/guest soloist and continues to tour in the US as well as abroad. In Oct. of 2004 Wayne had the honor of performing as a featured artist at Stratospheric, a 4
day festival honoring the legendary trumpeter Maynard Ferguson.
As a sideman Wayne has been involved with hundreds of CD projects that include Beyonce, Christina Aguilera, Chicago, Bette Midler, Ray Charles, Diane Reeves, Celine Dion, Billy Joel, Diana Krall, Mel Torme, Barry Manilow, Arturo Sandoval, Robbie Williams, Keeley Smith, Josh Groban, Ronnie Milsap, Lee Ann Womack, Lou Rawls, Green Day, The Offspring, Bobby Caldwell, Rosemary Cloony, Diane Schuur, Brian Setzer, Joe Cocker, Eric Marienthal, Dave Koz, David Benoit, Warren Hill, Tito Puente and The Hollywood Bowl Orchestra.
A partial list of film credits include The Incredibles, Pink Panther, Mr & Mrs. Smith, Ice Princess, Team America, National Treasure, The Aquatic Life, Friday Night Lights, Tarzan 2, Spiderman 2, Anchorman, White Chicks, The Notebook, The Day After Tomorrow, 3 Musketeers, Starsky and Hutch, Pirates of the Caribbean, Paycheck, Hollywood Homicide, Legally Blonde 2, Drumline, Catch Me if You Can, Undercover Brother, Pluto Nash, John Q, Evolution, American Pie 1& 2, Analyze This, Scream 3, The Kid, South Park, Flubber and The Hunchback of Notre Dame.
His trumpet solos can be heard on High Crimes, Rounders, Fled, Hey Arnold (the movie), The Mask, Drowning Mona, The Rat Pack, Child Star, Norma Jean and Marilyn, Aladdin King of Thieves, Return of Jafar, Foolproof and Two Days in the Valley.
Bergeron has worked on over 250 TV & motion picture soundtracks. Numerous TV credits include shows such as ESPN & TNT sports themes, Entertainment Tonight Theme, American Idol, Emmy Awards, 2005 Academy Awards, Latin Grammy's, Frank Sinatra's 80th B-Day Special, Tony Bennett TV Special, Jerry Lewis Telathon, Jeopardy, America's Funniest Home Videos, Futurama, Buzz Lightyear, Hercules, Lloyd in Space, Hey Arnold and Promised Land.
In addition, his trumpet solos have been heard on music from King of the Hill, The Division, The Agency, Mouseworks, House of Mouse, Arrested Development and Sabrina The Teenage Witch. Bergeron has also played on hundreds of TV & radio jingles. Wayne's passion for big bands finds himself seated in some of LA's most well respected bands. He has recorded with Quincy Jones, Gordon Goodwin, Pat Williams, Sammy Nestico, Jack Sheldon, Tom Kubis, John La Barbara, Ralph Carmichael, Bob Florence, Frank Capp, Matt Cattingub, Bill Liston, Kim Richmond, Ray Anthony, Roger Neumann, Bill Perkins, Buddy Childers, Bill Elliott, Chris Walden, Gary Irwin, Bill Watrous and Bob Curnow.