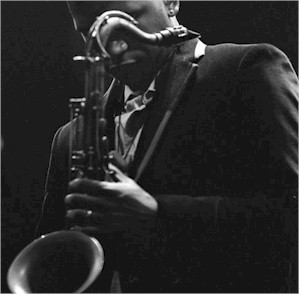 Artist Profile:
Walter Smith III
Walter Smith III began playing the saxophone at the age of 7 in his hometown of Houston, TX. At Houston's High School for the Performing and Visual Arts, in 1998, Smith received a Clifford Brown/Stan Getz Fellowship from IAJE and NFAA; the NFAA Young Talent Award, a full tuition scholarship to attend Berklee College of Music; and a United States Presidential Scholar in the Arts medal, Walter Graduated from Berklee in 2003 with a degree in Music Education.
While in Boston, Walter was selected by the Boston Jazz Society to receive its annual award whose past winners have included Branford Marsalis and Donald Harrison. In July of 2002, Walter walked away from the Montreaux Jazz Festival in Switzerland with third place in the 1st annual International Saxophone Competition, as well as winning the Audience's Favorite at Manhattan School of Music on a full tuition scholarship to receive a master's in jazz performance. While in New York, Smith kept himself busy touring and performing with such artists as Roy Haynes and Ralph Peterson, as well as Bilal and Destiny's Child. Smith recently performed in a Tsunami benefit concert with R&B vocalist Lauryn Hill in Kuala Lumpur, Malaysia.
Walter has performed all over the world participating in numerous national and international festivals as well as famed stages in the U.S. such as Carnegie Hall and the Kennedy Center. Smith has shared the stage and/or appeared on recording with many jazz notables including Roy Hargrove, Sean Jones, Terence Blancharrd, Darren Barrett, Eric Reed, Makoto Ozone, Mulgrew Miller, Jason Moran, Joe Sample, Rueben Rogers, Bob Hurst, Donald Harrison, Antonio Hart, Joe Lovano, Bill Pierce, Myron Walden, Walter Beasley, Lewis Nash, Eric Harland, Ralph Peterson, Terri Lynne-Carrington, and a host of others.
Walter's debut recording as a leader was released in March of 2006 on the Fresh Sound New Talent label and features many of his original compositions. The band is comprised of some of the best young musicians on the scene today, including Aaron Parks, Robert Glasper, Lionel Loueke, Lage Lund, Gretchen Parlato, Rueben Rogers, Vicente Archer, Kendrick Scott, Eric Harland, and Matt Kilmer.
Most recently Walter has finished a two year program with the Thelonious Monk Institute of Jazz in Los Angeles and has already completed tours of both Vietnam and India with Herbie Hancock and Wayne Shorter. Starting in the Fall of 2007, Walter will be teaching at the Los Angeles County High School of the Arts, and is currently touring with the Sean Jones Sextet, Christian Scott and Jason Moran's Monk Town Hall project titled "In My Mind".
In 2007 Walter is an integral part of two Grammy-nominated recordings including Christian Scott's "Rewind That" that was nominated for Best Contemporary Jazz Album, and Michael Buble's "Caught in the Act" which was nominated in the Traditional/Pop category. All to be released before the summer of 2007, Walter is featured on upcoming new releases by trumpeters Christian Scott (Concord Records) and Sean Jones (Mack Avenue Records), drummer Kendrick Scott (World Culture Music), as well as several other recordings to be released in 2007 and 2008.