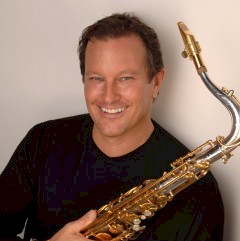 Artist Profile:
Tom Borton
Tom graduated from North Central High School in Indianapolis in 1974 and attended Indiana University Bloomington (IN) School of Music. He was a creatively brilliant producer, performer and composer of music. Tom was founder and CEO of Los Angeles Post Music, Inc, a production music library that provides music for a list of clients including television shows such as LOST, The Mentalist, Sex and the City, the Sopranos, King of the Hill, Friends and advertising clients such as Canon, Verizon, NBC, CBS, Warner Brothers, Banana Republic, Columbia Pictures, Fox Sports, ABC, Toyota, GMC and Baskin Robbins.
Tom's life long love of music began when he was in the 4th grade in Norristown, PA when he picked up the saxophone and, from that time on never put it down. He specialized in playing alto, tenor, baritone and soprano saxophone as well as all percussion instruments. While in high school Tom played for Tarnished Silver a band that included singer Kenny Edmonds who went on to fame as a songwriter under the name Babyface.
At Indiana University Tom joined others to form a Bloomington based group called Streamwinner, which included drummer Kenny Aronoff, who went on to become one of the world's most influential and in demand drummers. Borton's love for music called him to Los Angeles, CA where by chance he got involved with composition and started writing for television and film music. He built a studio and before long formulated a music catalog. After a series of screen credits, his name and studio name developed a reputation as an international provider of production music and sound design. Under the Blue Moon record label Tom debuted his first album Dancing with Tigers. Borton wrote, produced, mixed and engineered the disc. His music from Dancing with Tigers hit #1 billboard music charts.
In the summer of 1987 Borton joined The Big Picture band as a composer and lead on alto saxophone. The band played in musical hot spots through out the LA area. In 1987 Tom received honors for Creative Technical Crafts for The Smithsonian: America's Time Machine, Academy of Television Arts & Sciences 40th annual Los Angeles Area Emmy Awards. In 2002 Tom played in the Montreux Jazz Festival with Steve Allee in Switzerland. In 2008 LA Post Music continued their long relationship with HBO and produced music for the third installment of the John Adams mini series, Don't Tread on Me. This pairing of superb production and outstanding music received rave reviews.