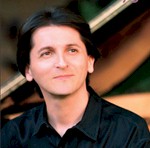 Artist Profile:
Tamir Hendelman
Award-winning jazz pianist Tamir Hendelman has performed with the Jeff Hamilton Trio, the Clayton-Hamilton Jazz Orchestra, Harry Allen, Teddy Edwards, Warren Vache, Houston Person, Jeff Clayton, Nick Brignola, Phil Upchurch, Rickey Woodard, John Clayton and Barbara Morrison.
He also leads his own trio. Beginning his keyboard studies at age 6 in Tel Aviv, Tamir moved to the US at age 12 in 1984, winning Yamaha's national keyboard competition 2 years later at age 14. Concerts in Japan and the Kennedy Center followed. Tamir then studied at the Tanglewood Institute in 1988 and received a Bachelor of Music Composition degree from Eastman School of Music in 1993. He then became the youngest musical director for Lovewell Institute, a national arts education non-profit organization.
Since returning to LA in 1996, Tamir has been in steady demand as pianist and arranger, touring the US, Europe and Asia, and receiving awards from ASCAP and National Foundation For Advancement in the Arts. In 1999 Tamir was a guest soloist with the Henry Mancini Institute Orchestra.
Tamir joined the Jeff Hamilton Trio in 2000, contributing arrangements, recording and touring Japan, Europe and the US. In 2001 he became a member of the Clayton-Hamilton Jazz Orchestra, with whom he premiered John Clayton's new orchestration of Oscar Peterson's Canadiana Suite in the Hollywood Bowl in 2001. In 2002 he also toured Europe with Tierney Sutton and the Bill Holman Big Band and in 2002-3 Tamir recorded for Yamaha's Disklavier piano.