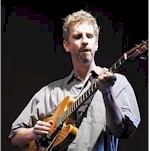 Artist Profile:
Steve Cardenas
Steve Cardenas has diverse credits as a performer and recording artist. Having started his musical career in Kansas City, he is now an integral part of the jazz community in New York.
Cardenas has backed up such greats as Eddie Harris, Marilyn Maye, Jay McShann, and Slide Hampton. He has toured Europe extensively including performances at various jazz festivals which include the Montreux Jazz Festival in Switzerland on three separate occasions and the North Sea Jazz Festival two times.
In recent years, he
regularly performed with such diverse artists as Maria Muldaur, Paul McCandless of the group Oregon, trumpeters/composers Mark Isham and Jeff Beal, bassists Charlie Haden and Marc Johnson, and newcomer Norah Jones. Currently he is a member of the Paul Motian Electric Bebop Band, as well as a quartet led by drummer Joey Baron called "Killer Joey". In addition to this, he leads his own group performing at various venues around New York City.
Along with his performing and recording experience, Cardenas is an instructor at the New School in New York as well as teaching private lessons on his own. Most recently, Steve was guest faculty for the 2003 winter/spring semester at California Institute of the Arts. Other teaching positions in the past have included the "Integrated Arts in Education" program through the Stamford Symphony Orchestra, the Musicians Institute in Hollywood, California, and jazz workshops at Jamey Aebersold Summer Jazz Camps.
Also, in collaboration with editor/record producer Don Sickler, Cardenas completed work on a book of Thelonious Monk's compositions through Hal Leonard Publishing. The Thelonious Monk Fakebook marks the premier publishing of all of Monk's compositions together with many of them appearing for the first time.
Just released in fall 2003 is Steve's new CD, Panoramic, for Fresh Sound New Talent Records. As on his previous release, Shebang, this CD features Larry Grenadier on bass and Kenny Wollesen on drums, with Tony Malaby added on tenor saxophone.