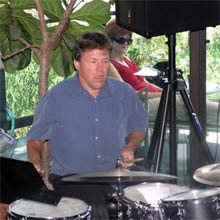 Artist Profile:
Steve Barnes
Steve Barnes feels fortunate to have supported the music of both legendary and up-and-coming musicians with his drumming, including appearances with Howard Alden, Harry Allen, Sheryl Bailey, Shelly Berg, Chuck Berghofer, Gene Bertoncini, Don Braden, Freddie Cole, Richie Cole, Hank Crawford, Dena Derose, Kenny Drew Jr., Ron Eschete, John Fedchock, Clare Fischer, Bruce Forman, Mimi Fox, Hal Galper, Roberta Gambarini, Eddie Harris, Antonio Hart, David Hazeltine, Tamir Hendelman, Conrad Herwig, Holly Haoffman, Red Hollaway, Groove Holmes, Luther Hughes, Kristin Korb, Andy Laverne, Jay Leonhart, Dave Liebman and many, many more.
In 1999, Steve toured in Brazil for Mike Tracey Quartet. In addition to his small group playing, the Ohio native has played with numerous big bands including the Bruce Eskovitz Jazz Orchestra, Bob Florence Limited Edition Big Band, The
American Jazz Institute Big Band with Mark Masters, Bill Holman's Big Band, the Blue Wisp Big Band (Cincinnati), Rob Parton's Jazz Tech Big Band (Chicago) Steve Allee's Big Band (Indianapolis), the Tommy Dorsey Big Band, Steve Allen Big Band, Les Brown Jr. and the Band of Renown, Gary Tole's Legends of Swing, Swingtown Big Band – (Disneyland California) Ray Anthony Big Band, Bill Elliott Swing Orchestra and the Keely Smith Big Band.
2010 launched Steve's Los Angeles television recording career drumming under the baton of Composer Dan Foliart for the ABC Family show "The Secret Life of the American Teenager".
A Vital and inspiring educator, Steve has over 30 years of private teaching experience, including teaching jazz drum set at the University of Cincinnati's College Conservatory of Music and serving on the faculty of the Jamey Aebersold Summer Jazz Workshop. Steve was selected by the L.A. Jazz Society to act as drum set mentor for the Bill Green Mentor Scholarship program and has served in the capacity from 2004 to the present.