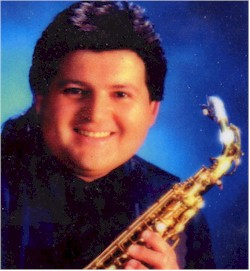 Artist Profile:
Steve Alaniz
Steve Alaniz was six years old when he listened to his father practicing saxophone along with a Stan Getz album. Later, impressed by the flashy Tony Curtis character in the movie, Some Like It Hot, Steve picked up the saxophone and by the age of nine, began a life-long love affair with jazz music.
Teachers and professionals recognized his talent early on, and by the age of eighteen he was performing professionally with bands such as Andy Williams, and The Johnny Crawford Orchestra, later studying with blues icon, Johnny Hammond Smith.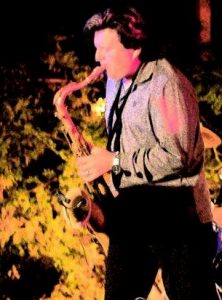 A Southern California native, Steve's saxophone and woodwind training has enabled him to perform with many notable jazz artists, including Nancy Wilson, Bobby McFerrin, Conte Condoli and Max Bennett. He's traveled the world to perform, including stints at Ronny Scott's in London, the '84 Olympics, the Montreaux and North Sea Jazz Festivals. He has performed for Ronald Reagan, Gerald Ford and Bill Clinton, receiving accolades from all.
In fact, it's often said that Steve's playing "connects".
Which seems to be the theme for his audiences; they hear a quality in Steve's playing that touches their hearts. Branford Marsalis referred to Steve's style as having "The Spice of Life" – that unique ability to combine influences gathered over a lifetime and to allow those "flavors" to filter through the music to the listener, creating a palate of voices in the sound of his saxophone that pay homage to the jazz greats. And if Steve has a single goal, it is that – to honor the great players who built jazz into the art form celebrated today around the world.
Steve Alaniz has performed with:
Max Bennett, Brian Bromberg, Sekou Bunch, Glen Campbell, Conte Condoli, Johnny Crawford Orchestra The Dorsey Orchestra, Connie Francis, Ray Fuller, Grant Geisman, John Gibson, Rayford Griffin, Lalo Guererro, Tony Guererro, The Ink Spots, Herb Jeffries, Jack Jones, Phil Keaggy, Guy Lombardo Orchestra, Trini Lopez, Bobby McFerrin, Gary Novak, Joan Rivers, Chan Romero, Bobby Shew, Tommy Todesco, Bill Watrous, Andy Williams, Wilson Phillips, and Nancy Wilson to name a few.
Movie and Television:
Honored for contributions to the Emmy award-winning achievement for Outstanding Music Direction and Composition For A Drama Series CBS Guiding Light
Another World
Passions
Fox, Fox Kids cartoon networks
SpiderMan
Long Kiss Goodnight
Michael Jordan IMAX feature
and many others