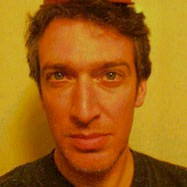 Artist Profile:
Scot Ray
Multi-instrumentalist Scot Ray is an active and innovative musician/composer. Equally fluid on trombone, tuba, and dobro slide guitar, Ray has been featured on over five dozen recordings.
Trombonist Scot Ray rounds up the usual suspects of West Coast postmodern jazz for this session classified in the 'unable to classify' category. The former sideman in Brian Setzer's swing orchestra pens a few ideas of hs own on Active Vapor Recovery. He has jettisoned swing for an amalgam of fresh funk, rock, chamber, and free music.
Scot assembles a cast of Cryptogramphone and 9 Winds record regulars to pull off this most eclectic of sessions. But then again what would you expect from a trombone/electric violin/bass/guitar/drums record? Cartoon music? Yes, and then some. Scot's compositions, nine of them, are a sort of 21st century Raymond Scott pack of hungry electric cannibals with all the time and music shifts possible.
His "Scarabaeus" starts off marching, only to twist into the Warner Brothers cartoon version of hide-and-seek before mashing a bit of guitar/trombone driven mayhem. The quintet also dabbles in chamber jazz on "Man As Kite," prominently featuring Jeff Gauthier's fluid tone. You have to dig any band that can go from dizzy to beautiful with such ease. They infuse soul jazz and funk jazz into the 1970s inspired "In Cleveland" and the title track.
This eclecticism of style can sound stilted if care is not taken to keep the music consistent. Scot's choice of the Cline bothers and Stuart Liebig makes the sum of these parts a greater whole. Guitarist Nels Cline has always been able to shift genre and attention with eloquence. Scot allows Cline to shred when necessary; other places he accompanies without distracting. The two tracks that stand out here are almost exact opposites in style. The nearly 14-minute "Trouble With Sugar" is a free abstraction of created sounds, while "Bitteroot" plies beautifully long lines of color over a landscape of serenity. Ray's trombone carves through all of these tunes with a remarkable fluency in all styles.