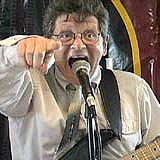 Robin Henkel is known in his hometown (San Diego, CA) as a blues artist specializing in slide guitar and the styles of the Mississippi delta. Because of this reputation, his CD "Highway," although deep in American roots, is not what many of his fans expected. This music is a thoughtful blend of swing, funk, Latin, with jazz horn arrangement, slide and steel guitar. Although not a blues CD, Highway won Best Blues CD at the San Diego Music Awards 2000.
Cuts like "Steel Swing" and "Mahtochiquala 1" are reminiscent of a period in American music when the steel guitar (popular in Hawaiian and country music) met with the horn arrangement of the big bands. This was a rich (and almost forgotten) moment in our musical culture.
San Diego Union columnist Mike Kinsman wrote "as a guitar player Robin can play blues, jazz, funk, country swing, Hawaiian and Latin music. He borrows from each of those styles when he performs and sometimes even surprises himself."
The Los Angeles Times said "Robin is a futurist and a historian."
Robin has opened shows for Bonnie Raitt, John McLaughlin, Dizzy Gilespie, Charles Brown, Dr John, Arlo Guthrie and Willie Nelson.
Robin has performed with Big Jay McNealy, Eddie Kirkland, Sha Na Na, Johnny Almond, Jimmy Witherspoon and Papa John Creach.
Robin performed blues with the San Diego Symphony as a special featured guest artist during the Summer Pops Concert Series 2002.
Robin Henkel has been teaching at the Blue Guitar since 1980, giving instruction in guitar, bass, slide guitar, lap steel, open tunings, blues, jazz, theory, and rhythm. Robin performs with his own group and others in the San Diego area and has also performed with John Hammond, Eddie Kirkland, Sha Na Na, Lowell Fulson, Johnny Almond, Jimmy Witherspoon, Big Jay McNealy, Papa John Creach, and Buddy Miles .
"Robin Henkel is a futurist and a historian" – Los Angeles Times
"Robin's live shows are nothing short of inspirational" – 360 Degrees
"You can almost hear the scratches on the 78" – San Diego Reader