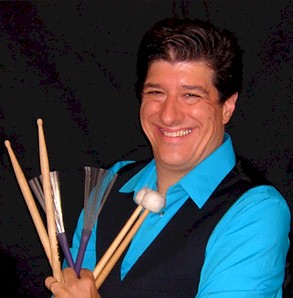 Artist Profile:
Rob Hart
San Francisco Bay Area native and Berklee College of Music graduate Rob Hart is a consummate musician, teaching and performing regularly with the Rob Hart Trio in Bay Area venues. Rob has also performed/recorded with renowned bassist Kai Eckhardt (John McLaughlin),The Isley Brothers, Antilles recording artist Dave Mann, CC Deville (Poison), and Stu Hamm (Joe Satriani/Steve Vai) among others, and has been featured as an opener for legendary jazz saxophonist Bennie Maupin and seminal jazz fusion pioneers Spyro Gyra.
Rob has studied with Steve Smith, Mike Clark, Gary Chaffee, and the late Tony Williams. He established the Rob Hart Drum Studio in 1985. Some of his successful students have gone on to join renowned touring bands and award-winning ensembles. Rob is an active clinician and continues to conduct various rhythm section workshops in the San Francisco Bay area.
Rob endorses DW Drums©, Vic Firth© Drum Sticks and is currently signed to the Bay Area's Simply Smokin' Records. © The Rob Hart Trio's debut CD, "Trios of the Past, Present, and Future," is available through this website. A Selected track from this eclectic collection were chosen from nearly 700 CD entries nationwide and is featured on a Bethlehem Archives jazz label sampler CD entitled "Jazz You Must Own!" The Trio has just released its ambitious follow up double-live disc called "Art of Improvisation," that captures the trios live spontaneity of live high energy improvisations, now available on this website.