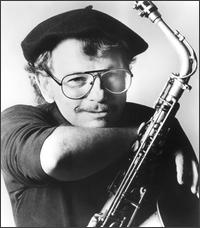 Artist Profile:
Richie Cole
The musical work of Richie Cole includes an impressive list of recordings as well as performances with the legendary bands of Buddy Rich, Doc Severnsen, and Lionel Hampton. During the 1970's, along with his partner Eddie Jefferson, he revolutionized the art of jazz vocalese.
As musical director of the Manhattan Transfer during their "gold record" years, Richie's music and arrangements further enhanced the popularity and success of this idiom.
Richie has three performances at Carnegie Hall and two performances at Radio City Music Hall to his credit, as well as a command performance the Queen of England. He also served as chairman of the board for the National Endowment for the Arts in Washington D.C.
He works extensively with high school and college music programs as a clinician. Richie has captivated audiences all over the world with performances filled with excitement, high energy and emotion from be-bop to ballads. His current CD releases include "West Side Story" and "Come
Sunday."
His most recent venture, the Alto Madness Orchestra, brilliantly captures the much-loved big band sound in a small group setting using only four horns.
In addition to appearing on the covers of Downbeat, Jazz Times, Swing Journal, and Musicians Magazine, he has worked as a clinician for Selmer and Yamaha Saxophones.
Alto saxophonist Richie Cole, with more than a quarter century of contributions to the jazz world under his belt, is perhaps best known for his four-year partnership with the late Eddie Jefferson.
The road was Jefferson and Cole's home. The pair toured the States in Cole's minivan, playing just about everywhere until 1979, when Jefferson was gunned down, gangland-style, outside Baker's Keyboard Lounge in Detroit. Cole's memories of Jefferson and the times haven't faded with the years: "A day doesn't go by that I don't think about the man. He was the world's greatest pure jazz singer."
Cole fell in love with jazz as a youngster, listening to the music at his father's jazz club in Trenton, New Jersey. He got his first horn at the age of 10, and while in high school, he was tutored by Phil Woods, with whom he later recorded the album Side By Side for Muse Records.
A tenure with Buddy Rich's big band beginning in 1969 is also included in Cole's professional career, as are stints in the 1970's with Doc Severinsen, Lionel Hampton and others. In the early 1980's he served as saxophonist for Manhattan Transfer, but has spent most of the last 15 years leading his own bands.
Although he's made over two dozen albums as a leader, Cole has gained much of his renown and success from a touring schedule that few other jazz artists can match. His live performances, seasoned liberally with the madcap humor that has become his trademark, continuously delight audiences that extend well beyond hard core jazz purists. His popularity as an entertainer has netted Cole a sizeable and enthusiastic following – one that consistently places him high in reader's polls conducted by Down Beat, Swing Journal, and other jazz publications.
With such a long and storied recording career, Richie Cole's four-year absence from the studio ended well with Profile, his first recording for Heads Up. A maker of jazz moments for more than a quarter of a century, the alto saxophonist feels that his work on Profile is as strong as it's ever been. "I feel more centered on my music, so my music is clearer," he says.
Old and new friends make up Cole's crew for Profile. The lead song, "Presidential Sax," recalls the work of bebop composer/arranger Todd Dameron, and the smoking out-chorus where Cole and new labelmate Henry Johnson play as one just demands attention. The altoist's relationship with pianist Dick Hindman goes back to Denver and Clyde's Pub in 1977, and Richie holds him in high respect: "Whenever we work together, I consider him my musical director." Drummer Scott Morris and Cole have worked together since 1982, when Morris was a member of what Richie jokingly calls his "Bebop Band from Hell," which featured Filipino pianist Bobby Enriquez and guitarist Bruce Forman. Bassists Seward McCanin and Frank Passantino and pianist/synthesist Rich Kuhns have been with Richie for several years, and Cole rates them all as "very solid players."
More than satisfied with the results on Profile, Cole states "I'm trying to stretch myself one day at a time, express myself one day at a time, playing from a traditional jazz background yet always keeping my ears open to what's happening currently." Profile is clearly vintage Cole – still on the road, but right at home, where he belongs, in the jazz world.
The return to an active performance and recording career by altoist Richie Cole is one of the happier events in the jazz world of the Nineties. Cole is quick to delegate credit for the success of his second Heads Up release Kush: The Music of Dizzy Gillespie. "It was Dave Love's idea for me to record a set of Dizzy Gillespie tunes and I was very agreeable," says Cole. "This was the first time I'd met Bob Belden, who arranged all of the music. He kept the writing simple but it was very effective, putting me in a lot of different settings, from an 18-piece band down to a trio with two guitars. I basically just had the melody of the song written out with the chords, and Bob would point at me and say 'Play!' or wave me out and say 'Stop!' We did the whole album in one day, just six hours."
Of the impressive sidemen, several of the more notable players have worked extensively with Cole in the past. "Vic Juris and Ray Mantilla have been playing with me for over 15 years, while Jack Walrath and Sam Burtis and I went to Berklee together in Boston," explains Cole. "Paquito D'Rivera and I have known each other for quite a while but, while we've played several concerts, this is the first time we've actually recorded together."
In making a tribute recording, Cole reminisced about his experiences with Gillespie. "He was a very nice guy," says Cole. "When I was a kid, every time I'd see him and say 'Hello, Diz' he would remember me and ask how my saxophone was coming. He and Cannonball Adderley were both that way, very personable and able to relate to their audiences very well. That's the approach I aim for in my performances, because I appreciate the people being out there spending their hard-earned money to come see me."
Back in the mid-'70s, when bebop was being greatly overshadowed by fusion, Richie Cole showed that not only was bop not old-fashioned, but it could be quite fun. His Alto Madness was essentially the idea that any tune, no matter how unlikely its source, could be turned into exuberant bop. Through the years, he has successfully recorded such songs as "The I Love Lucy Theme," "Holiday for Strings," "Horray for Hollywood," "The White Cliffs of Dover," "Come Fly With Me," "The Star Trek Theme," and even "La Bamba." Influenced by Phil Woods and Charlie Parker, Richie Cole heard jazz from an early age because his father owned a jazz club in New Jersey. He started on alto when he was ten, attended Berklee for two years, and joined Buddy Rich's big band in 1969. After a stint with Lionel Hampton, Cole formed his own group, doing a great deal to popularize bebop in the 1970s. Some of his finest recordings were his early ones for Muse, during a period when he often teamed up with singer Eddie Jefferson. His humor sometimes left critics cold, but Cole was one of the top bop-oriented players of the 1980s, and his Heads Up releases of the '90s (after a few years off the scene) are excellent.