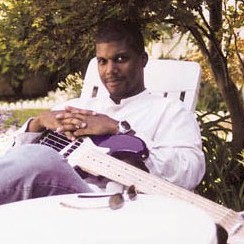 Artist Profile:
Reggie Hamilton
Who does Stanley Clarke call when he needs a bass player for his film music? Reggie Hamilton. Since the late 1980s Reggie — a triple threat on electric, upright, and keyboard bass — has worked his way into the elite group of L.A.'s top studio bassists. In addition to his numerous film credits, Hamilton has recorded with Barbra Streisand, Toni Braxton, Aaron Neville, and Michael Bolton, among others.
Reggie began playing electric bass at age 11, picking up the acoustic at 13. In high school he m
oved from his native New York to Atlantic City, New Jersey, at the dawn of the new casino era. "I thought it would be bad for me, but it was great," he recalls. "There were so many great musicians from New York and Philly there." Hamilton cut his teeth on club gigs, moving up to house-band gigs in the casinos after graduation.
At one point he held down two house gigs simultaneously, doubling on electric and acoustic and reading charts for the acts that came through the Las Vegas of the East. "It was great. There'd be a ton of charts to read, you kept moving, and that was it — and then you'd go out and play a $20 bebop gig just for fun."
After a stint with the national touring company of Tap Dance Kid, Reggie moved to Los Angeles in 1987. "That was right after the synth-bass thing really took off. Back then you were looked down upon if you didn't have a 5-string." At the time he was also playing Fodera 6's, but Hamilton converted an '85 Fender Squier Jazz 4-string into a 5 by installing a Chandler 5-string bridge and drilling into the headstock for another tuner.
Reggie's networking skills proved just as valuable as his performance chops. "When Nathan East would leave town, I'd get to work on Babyface's projects. I did Boyz II Men II [Motown] and Gladys Knight's Just for You [MCA]." When Hamilton met Stanley Clarke he started getting called for film and TV dates written by the bass pioneer. "I get work in a lot of circles now. People try to pigeonhole you — but if you show up in enough different places, eventually they'll realize you do everything."
Amidst the high-pressure, high-profile situations Hamilton regularly experiences, his relaxed personality and professional attitude keep him in demand. "You want the person you work for to feel comfortable, and to feel like you're indispensable. And you have to leave your attitude at the door. When you hit the bandstand, that's when it really counts. That's how you get called back." Like fellow session ace East, Reggie has struck a balance between touring and studio work, logging miles with such artists as Kitaro, Seal, and Bette Midler.
The ever-changing circumstances of studio work have given Hamilton very definite attitudes. "Be prepared for anything. Also, your first idea is usually the best one; if you don't get it on the first take, you can just clean it up. And don't take your emotional baggage into the studio. Have a good time, all the time."
Reggie has played many different axes over the years, but he now swears by the Fender Jazz. His current Jazz arsenal includes fretted and fretless Deluxe 5-strings, a '74 with a John Suhr-designed preamp, a '67, and a fretless '66. The latter two are strung with LaBella flatwounds. He also plays an electric upright he built using an old acoustic neck. "When I lived in Atlantic City I didn't have a car, so it was easier to get around with the electric upright. The body is a few mahogany planks I laminated together and cut down. When I was touring with Kitaro I made some shoulders for it out of a bass-drum hoop." Reggie amplifies his homemade monster with a Fishman pickup and Fishman Pro-EQ. For his 1792 Panoromo acoustic bass, he uses a Fishman Bass Blender system with a BP100 transducer and Crown microphone. Reggie's live rig includes two Eden Navigator preamps, one for electric and one for upright. His 1,000-watt Eden power amp pushes three Eden 210XLT cabs and a 2×10 monitor wedge. In the studio Hamilton goes straight to the board with a passive DI and a Monster Cable.
While being sideman to the stars is a full-time pursuit, Reggie feels the time is right to pursue a solo project as well. "With the Internet I can market myself and do what I want without thinking about what haircut I should have. I want to put out something so in ten years when my kids hear it, I can hold up my head and say, 'That's something Daddy did.'"