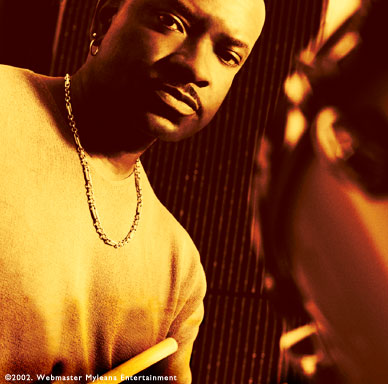 Artist Profile:
Rayford Griffin
Anyone who has ever had the privilege of hearing Rayford Griffin cut loose in one of his notorious drum solos knows they are hearing state of the art percussion. But they soon discover something even more extraordinary. These are more than talking drums; they're singing. You would swear you hear a verse, a chorus, certainly there is a melody – because you follow it note for note right up to the orgasmic bridge. And here you thought you hated drum solos!
Stanley Clarke in JAZZIZ says, "I could talk forever about drummers. They're my favorite musicians, because a drummer can really make or break a band. And I've played with so many different drummers… Lenny White… Billy Cobham… Steve Gadd… Tony Williams… Omar Hakim. Out of all the young drummers, Rayford Griffi
n is probably the best."
Rayford has toured with Michael Jackson, Anita Baker, the Isley Brothers, Stanley Clarke, Jean-Luc Ponty, Bette Midler, Babyface, George Duke, Jeff Lorber, George Howard, Manhattan Transfer, Kenny G., Rick Braun, Angela Winbush, Cameo, DeBarge, and the list goes on…
Playing with Rayford on this show recorded at La Ve Lee are Reggie Hamilton on bass, guitar, Nick Smith on keyboards, Bennie Maupin on sax, Richard Grant on trumpet, Dwight Sills on guitar, and Munyungo Jackson on percussion.