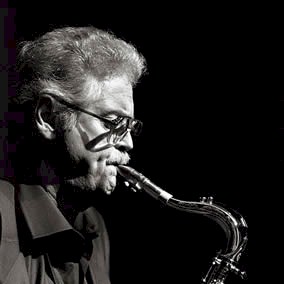 Artist Profile:
Pete Christlieb
For years, Pete Christlieb has been heard on prime-time television shows, from Gene Roddenberry's original Star Trek to its sequel shows – Star Trek – The Next Generation, Voyager and Deep Space Nine. As part of The Tonight Show band, he performed nightly to an audience of millions. His evocative tenor saxophone sound was lauded on Natalie Cole's Unforgettable album. He began by playing in top-notch big bands and combos; his own albums have been nominated for several Grammy awards. Despite such impressive achievements, Pete Christlieb comes across as a pragmatic individual who truly enjoys music and its daily grind.
Christlieb's father Don, a bassoonist and studio musician, provided him an early introduction to music of all kinds. "I started on violin when I was about 6 or 7, then got interested in jazz and tenor saxophone at 13 and started listening to records. The first records I remember were by Chet Baker and Gerry Mulligan. Then I got more interested and bought more records, things like Zoot Sims and Stan Getz. Then came John Coltrane, Cannonball Adderley, and Miles Davis. I was especially interested in Cannonball."
Christlieb began to visit the Lighthouse in Hermosa Beach, one of the few places featuring bands to which a minor could gain admission. "I would sit there and listen to the Lighthouse All-stars, and Bob Cooper was the saxophonist that I remembered," Christlieb said. Shortly after, Christlieb began studying with Cooper. Soon he'd made enough progress to sit in for his mentor in the Lighthouse All-stars when Cooper had other jobs. "It was lots of fun then, playing at the Lighthouse with that group, at age 16 or 17."
Christlieb finished high school, attended Valley College, and then went on the road with the Si Zentner band at age 18. After that, he began a series of jobs with musicians like Bobby Bryant, where he traded saxophone licks with veteran horn men Herman Riley and Hadley Caliman.
While performing with Della Reese in Las Vegas' Flamingo Hotel, his path crossed with yet another stellar bandleader, famous for his showcasing of woodwind players – Woody Herman. Christlieb heard that Herman band member Joe Farrell was leaving: soon he was asked to join. When that job ended, he returned to Los Angeles; this time he began work with former Ellington drummer and bandleader Louis Bellson. The two formed a partnership that has strengthened and flourished for over three decades. It was the work with Bellson that led to Christlieb's appointment to The Tonight Show with Johnny Carson and Doc Severinsen. "For me, the exposure and promotion that I received there was immeasurable," Christlieb said. "As a band member on camera every night, I was always visible and being promoted. I'm sure that a lot
of today's projects were made possible because of those years.
Christlieb formed his own group, and for a while, had his own record label. "I worked with Warne Marsh and my current bassist Jim Hughart. I also started producing my records under my own label – Bosco Records, which I named after a Boston Great Dane that I had at the time." Nowadays he prefers to concentrate on performing and leave the business arrangements to others.
He also teaches summers at the Bud Shank Jazz Workshop in Washington state, works with the Bill Holman band, and continues on with Star Trek and other studio projects with partner Dennis McCarthy. And, as a prime supporter of Vulcan, Romulan and Cardassian tunes over the years, does he have any observations about the state of intergalactic woodwind? He does indeed. "I think we could use more tenor saxophone in outer space."