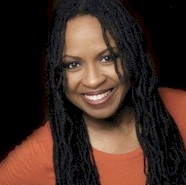 Artist Profile:
Paulette McWilliams
Chicago has always produced great musical talent. Paulette McWilliams is no exception to that rule. She started singing before she could talk and even as a child, Paulette amazed her listeners with her low, deep, sultry, velvety tones and an incredibly wide range. She has quite a long and extensive musical history.
She was the lead singer with Ask Rufus and before she left the group, she introduced her friend Chaka to Ask Rufus to take her place. They sang together for a short period in Ask Rufus and have remained close friends through the years.
Paulette was introduced to Quincy Jones via cassette sent by Phil Upchurch (famous jazz guitarist). Quincy immediately made her his solo/lead singer for his Body Heat tour. Quincy introduced her on the "Mellow Madness" album of which she co-wrote the title song. While in Japan, she sang a duet on stage with Sarah Vaughan as Quincy Jones conducted the orchestra. She has recorded and/or sung live duets with Marvin Gaye (on his last tour), Johnny Mathis (2 duets on his album Different Kinda Different) and she sang a solo on Noel Pointer's last CD. Paulette has sung backups, live on tour for artists too many to mention! She also toured and recorded with Luther Vandross for over 20 years. She has recorded with Mary J. Blige as well as appeared with Aretha Franklin, Lauryn Hill, Celine Dion, Anastacia, Whitney Houston, Patty LaBelle,
Deborah Cox, Michael Jackson, David Bowie and many others. The list goes from A-Z.
You don't realize it, but you have heard her voice many times. She is the voice behind the TV commercials you hear daily such as Folgers, McDonalds, Diet Pepsi with Britney Spears, Cadillac, Cover Girl, American Express, Celebrex and the "Love Jones" by Mercedes. She is also on many movie soundtracks. She appears on and off the screen for the Emmy award winning PBS children's show, "Between The Lions."
Paulette is off the road and finally doing the music she listened to and learned to love as a child. She is a gifted songwriter and is co-writing her new CD with Anne Schelle Herring. She is currently joined by her good friends and partners Vincent Herring on saxophone, Nat Adderley Jr. on piano, Richie Goods on bass and E.J. Strickland and Greg Hutchinson on drums.
In addition to being a vocalist/songwriter/actress (Paulette studied at Stella Adler in New York and Lee Strasberg in Los Angeles and has appeared in a few movies) she is working to educate younger artists about the music industry and how to keep themselves productive and in control of their destiny.