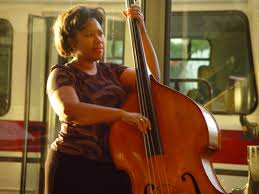 Artist Profile:
Nedra Wheeler
Nedra Wheeler, bassist, composer, and bandleader, has been performing in Southern California and touring internationally for more than 25 years.
Nedra is a recipient of the 2006 Jazz Legend of Los Angeles Award from the Dunbar Economic Development Corporation and the City of Los Angeles. She has a Master of Fine Arts degree from California Institute of the Arts. She is an instructor in the Los Angeles Community College District and a Performance Lecturer for the Jazz Mentorship program for the City of Los Angeles Cultural Affairs Department-Watts Towers Art Center.
Wheeler's artistic versatility (bass, composition, vocals) and experience with diverse musical genres includes jazz (straight ahead and contemporary), pop, R&B, world music, and interpretation of original compositions for modern dance. She has performed and recorded with such greats as Stevie Wonder, Ella Fitzgerald, Pat Benatar, Linda Hopkins, Kenny Kirkland, and Bob Dylan. Her recordings include film soundtracks for Malcolm X, Chick Peas, Clockers, Menace to Society, as well as a self-produced debut CD entitled Gifts: Live at Birdland West.
A charismatic bassist, Wheeler is a favorite with the Al Williams Jazz Society and has appeared numerous times at the Long Beach Jazz Festival. Her international appearances include festivals in Canada, Japan, South America, France, Germany and other European countries.