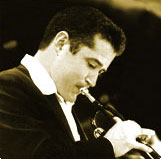 Artist Profile:
Nate Birkey
Nate Birkey's quiet but intense demeanor typifies an artist restlessly pursuing the evolution of his own musical personality. As composer, trumpeter and vocalist, he imbues warmth and broiling energy into his music, as heard in the July, 2001 releases, The Mennonite and Ballads.
Birkey's subtle vocal and trumpet approach has often been compared to that of Chet Baker and Miles Davis respectively. A sound poised and assured, powerfully stark and spare, it creates an atmosphere at once solitary and electric.
The success of 1998's Indelibly You pushed Birkey and his quintet to the forefront of the West Coast Jazz scene, performing at clubs and festivals throughout the region. They returned to the studio in 2001 with cohesiveness and familiarity wrought by hundreds of live performances.
Hailing from various musical backgrounds, Jim Connoly again tackles stand up bass with poignant stability as drummer Cougar Estrada effectively propels the ensemble. Tenor saxophonist Justin Claveria and pianist Jamieson Trotter keep the quintet capable of quirk and combative with creativity.
Though a California resident for the past fifteen years, Nate was born in South Bend, Indiana where he spent his early childhood before moving to Colorado at age 10. He began studying piano at age seven and fell in love with his father's trumpet in the fifth grade.
"… it just felt more natural to me. I didn't mind practicing the trumpet, so I put the piano aside and started taking trumpet lessons."
After graduating from high school Birkey attended the prestigious Berklee College of Music in Boston where he studied Jazz performance and composition. Upon leaving Boston he moved to the opposite coast where he spent a short time at Seattle Pacific University and later went on to study classical trumpet and composition at U.C. Santa Barbara.
Nate has recently received awards from the Santa Barbara Arts Fund and the American Society of Composers, Authors, and Publishers. As a studio musician he has appeared on over sixty recordings and has made television appearances on ABC's Good Morning America, KTLA's Morning Show, KEYT's Voice of Santa Barbara and KCOY's Morning Show. When not performing or composing Nate spends much of his time working with young musicians as both a private instructor and clinician.