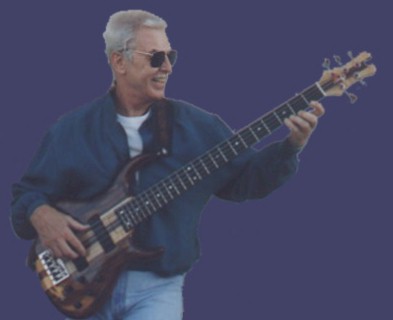 Artist Profile:
Max Bennett
Max Bennett & Private Reserve
Fans and followers of contemporary jazz need no introduction to Max Bennett. An internationally known bassist and composer, his experience spans from concert touring, recording and producing, to composing music for feature films and television.
Max has toured and performed in concert with vocalists Ella Fitzgerald, Joni Mitchell, Barbra Streisand, Peggy Lee, and Aretha Franklin, just to name a few. His many years of working in the studios have given him the opportunity to exercise his affinity for jazz, blues, rock and latin music, and to combine those elements into his music.
The list of outstanding artists with whom Max has recorded includes, Quincy Jones, The Beach Boys, Joni Mitchell, Steely Dan, Marvin Gaye, Frank Zappa, various Motown Artists, Celine Dion, Nelson Riddle, Henry Mancini, Ray Charles, Michael Franks, Frank Sinatra, Phil Spector, Michel LeGrand, and countless others. Other artists Max has performed in concert with are jazz icons Charlie Parker, Miles Davis, Dizzy Gillespie, Stan Getz, The Crusaders and many more.
His world-class experience and desire to expand the boundaries of jazz and rock music led him to re-conceive jazz in the world renowned band L.A. Express, which included Joe Sample, Larry Carlton and John Guerin, under the leadership of Tom Scott. After the success of this band, Max formed his own group "Freeway," and currently heads his most recent and musically adventurous
band, Private Reserve.
The Los Angeles Times, says, "Max Bennett is the genuine article himself, having come up through the "bebop" era to become a central figure in the contemporary jazz scene."
Private Reserve's music blends the best of contemporary concepts with the richness of jazz, blues, rock and latin music. Max says, "We feel that people identify with our strong melodies, rich harmonic structures and diverse rhythmic concepts. It is our goal to create original music of substance and intrinsic value."
---
RECORDINGS :
MARVIN GAYE
BARBRA STREISAND (STONEY END)
ANTHONY NEWLY
PAUL ANKA ELVIS PRESLEY
SHAWN PHILLIPS
FOUR TOPS
NELSON RIDDLE
FRANK SINATRA
FRANK SINATRA,JR
FRANK ZAPPA (5 Albums )
RAY CHARLES
CLEO LANE(PORGY & BESS)
SEALS & CROFT
JOE WILLIAMS
ELLA FITZGERALD (LIVE FROM ROME,ETC.)
MICHELE COLUMBIE
QUINCY JONES
BILLY ECKSTINE
KENNY ROGERS
THE BEACH BOYS
CAROLE KING
PAUL WILLIAMS
THE FIFTH DIMENSION
FIRST EDITION
STEELYE DAN (AJA)
PHIL SPECTOR
JOAN BAEZ
THE TEMPTATIONS
JONI MITCHELL(COURT & SPARK, MILES OF AISLES, HISSING OF SUMMER LAWNS, HEJIRA
THE CRUSADERS (SCRATCH, ETC.)
TOM SCOTT&THE L.A. EXPRESS
L.A. EXPRESS
VICTOR FELDMAN
O.C.SMITH
JUDY COLLINS
MICHAEL FRANKS
JOHN WILLIAMS
HENRY MANCINI
LALO SHIFRIN
CHARLEY FOX
ARTIE BUTLER
RALPH CARMICHAEL
JACK NIETCHE
PERCY FAITH
H.B. BARNUM – MOTOWN
PEGGY LEE
STAN KENTON
SAUTER-FINEGAN
TERRY GIBBS
CELINE DION
JOSE INGLESIES
BILL HOLMAN
GRASS ROOTS
DAVID FOSTER
MICHAEL McDONALD
JOSE FELICIANO
FRIENDS OF DISTINCTION
JIMMY ROWLES
---
TV FILM & MOTION PICTURE SOUND TRACKS
WRITTEN BY:
MICHELE LEGRANDE
NELSON RIDDLE
MICHELE COLUMBIE
QUINCY JONES
TOM SCOTT
JOHN WILLIAMS
HENRY MANCINI
LALO SHIFRIN
JOHNNY MANDEL
CHARLIE FOX
ARTIE BUTLER
BILLY BYERS
ELMER BERNSTIEN
MICHAEL MELVOIN