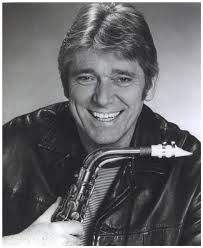 Artist Profile:
Med Flory
As the founder of Supersax, Med Flory has always been an accomplished and exciting musician.
Supersax was formed by Med Flory and Buddy Clark that played Charlie Parker's solos in unison, reached unexpectedly wide audience: made debut '72; first album Supersax Plays Bird won Grammy '73. Reedman/arr. Meredith 'Med' Flory (b 27 Aug. '26, Logansport IN) had left music after studio work in NYC, then West Coast; was acting, writing TV scripts, when he conceived Supersax with bassist Clark (who left '75).
Other LPs include: Salt Peanuts and Supersax Plays Bird With Strings on Capitol; Chasin' The Bird, Dynamite '77–8 on MPS; three LPs with the LA Voices on CBS incl. Embraceable You, Vol. 2 and Straighten Up And Fly Right '82–6. Lou Levy on piano (b 5 March '28, Chicago) was a member from end '73 to '80s; also recorded with Chubby Jackson (Bebop Revisited on Xanadu), as accompanist for Peggy Lee, Nancy Wilson, Frank Sinatra (My Way on Reprise) etc.
Many musicians who've toured with Supersax incl. reedman Jack Nimitz (b 11 Jan. '30, Washington DC), bassist Frank De La Rosa (b 26 Dec. '33, El Paso), Conte Candoli; Warne Marsh was with them in Chicago '76 when he took time off to make All Music on Nessa, with Levy, drummer Jake Hanna, bassist Fred Atwood. On CD The Joy Of Sax on Pair incl. Flory, Marsh, Candoli, Hanna.
Oh yeah – he's also a well-known actor.
Guest Starring Roles
Riptide – – Fuzzy Vision (1985)
Simon and Simon – Gavin Shelley – Dear Lovesick (1984)
Magnum, P.I. – Bud – The Elmo Ziller Story (1982)
Lou Grant – Ron Rickell – Jazz (1982)
Lou Grant – Doug Traynor – Goop (1980)
Little House on the Prairie – Pete Rawlins – A New Beginning (1980)
The Dukes of Hazzard – Shoulders – Hazzard Connection (1979)
Dallas – Cal McBride – The Lost Child (1979)
Alice – Brad – Flo's Chili Reception (1979)
Salvage 1 – Buster Wakefield – Confederate Gold (1979)
How the West Was Won – Sheriff Millet – The Slavers (1979)
Three for the Road – – The Fugitives (1975)
Starsky& Hutch – Zack Tyler – Texas Longhorn (1975)
Police Woman – Tour Driver – The Stalking of Joey Marr (1974)
Gunsmoke – Sheriff Van Berkle – A Town in Chains (1974)
Nichols – Cyrus – Peanuts And Crackerjacks (1971)
Bonanza – Clint Rush – The Grand Swing (1971)
Alias Smith and Jones – Marshal – Journey from San Juan (1971)
Gunsmoke – Corporal Steckey – Sergeant Holly (1970)
Lassie – Father – Nature's Child (1970)
Daniel Boone – Bingen – How to Become a Goddess (1970)
Mannix – Lenz – War of Nerves (1970)
Lassie – Sam – Chucka (1970)
Daniel Boone – Bingen – The Landlords (1970)
Lassie – Father Matthew – The Blessing (1969)
Daniel Boone – – Love and Equity (1969)
Daniel Boone – Bingen – Love and Equity (1969)
Daniel Boone – Jubal – The Bait (1968)
Gomer Pyle, U.S.M.C. – Monroe – The Return of Monroe (1968)
Daniel Boone – Dobbs – The Far Side of Fury (1968)
Daniel Boone – Joker – Orlando, the Prophet (1968)
Lassie – Dave – Countdown (1968)
Lassie – Dave – The Searchers (1968)
Lassie – Dave – The Lonely One (1968)
Gomer Pyle, U.S.M.C. – Monroe Efford – The Better Man (1967)
Cimarron Strip – Newton – The Roarer (1967)
F Troop – Unknown – The Loco Brothers (1966)
Lassie – Dockworker – Lassie the Voyager (2) (1966)
Lassie – Dockworker – Lassie the Voyager (1) (1966)
The F.B.I. – Forest Ranger – The Assassin (1966)
Run, Buddy, Run – Ben Pearson – Down on the Farm (1966)
Twelve O'Clock High – Captain Bright – Which Way the Wind Blows (1966)
The F.B.I. – Ranger – The Forests of the Night (1966)
Daniel Boone – Lukey – A Rope for Mingo (1965)
Destry – Bert Hartley – Go Away, Little Sheba (1964)
77 Sunset Strip – Paul Keddy – Paper Chase (1963)
Rawhide – Billie Barton – Incident of the Death Dancer (1963)
Bonanza – Otis – The Saga of Whizzer McGee (1963)
Route 66 – Terry – Shall Forfeit His Dog and Ten Shillings to the King (1963)
Bronco – Pelham – Then the Mountains (1962)
The Cheyenne Show – Pelham – Then The Mountains (Bronco) (1962)
77 Sunset Strip – Chief Brock – The Disappearance (1962)
Maverick – Wyatt Earp – Marshal Maverick (Kelly) (1962)
77 Sunset Strip – – Mr. Bailey's Honeymoon (1962)
Bonanza – Monk Hartley – The Dark Gate (1961)
Maverick – Deputy Nevers – Dodge City or Bust (Kelly) (1960)
Co Starring Roles
Mission: Impossible – Fred Stenrock, aka Toledo – Break! (1972)
Longstreet – Charlie – One in the Reality Column (1971)
The Virginian – Finney – A Bad Place to Die (1967)
The Virginian – Red Ingram – The Return of Golden Tom (1966)
The Virginian – Tom Yeager – A Gallows for Sam Horn (1964)
Movie/Mini-Series/Special Roles
The Boogens (1981) – Dan Ostroff