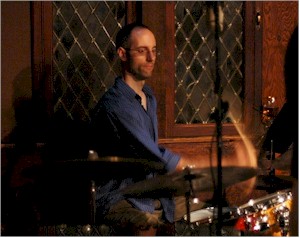 Artist Profile:
Mark Ferber
Drummer Mark Ferber began his musical studies on piano at the age of five. He was later introduced to drumming and percussion. Mark studied classical percussion with Mitchell Peters and drums with Billy Higgins and Joe Labarbera.
He has maintained a very busy playing schedule in Europe and on both the west and east coast. A partial list of his playing credits include Lee Konitz, David Liebman, Don Byron, Norah Jones, Kenny Werner, Steve Swallow, Fred Hersch, Billy Childs, Bud Shank, Anthony Wilson, Larry Goldings and Diana Krall.
Mark can be heard on recent recordings with various artists on Soul Note, Fresh Sound/New Talent, Sunnyside, Omnitone and Steeplechase Records. He is a part time faculty member for the City College of New York and the School of Improvisational Music. Currently, Mark resides in Brooklyn, New York.
He has appeared previously at Chez Hanny with the Jonathan Kreisberg Trio and the Dan Pratt Organ Quartet.
Other have said: "Mark has perfect time and always brings a deep sense of form to the music. He is highly creative, yet always supportive. I've found this to be a tough combination to find. He has the uncanny ability to make high complex figures sound natural and a consistent positive energy that always fires up the music."