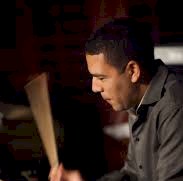 Artist Profile:
Lorca Hart
Drummer Lorca Hart grew up in Taos, New Mexico in a musical family. He was exposed to a variety of instruments and musical styles as a child but early on it became clear that the drumset was his passion. In high school he started to perform and focus on Jazz. He attended California Institute of the Arts from 1992-96, studying with Albert "Tootie" Heath, Joe La Barbera, Charlie Haden, Wadada Leo Smith, and many others.
Since that time Lorca has worked consistently in a variety of musical situations, performing with many of the West Coast's (and beyond) finest artists including : Ralph Moore, Carmen Lundy, Freddie Hubbard, Calvin Keys, Stanley Jordan, Craig Handy, Kyle Eastwood, Herman Riley, Azar Lawrence, Red Holloway, Plas Johnson, John Heard, Danny Grissett,
Justo Almario, Bennie Maupin, Phil Ranelin, Dave Pike, Don Menza, Hugh Masekela, Bobby Rodriguez, the Clayton Brothers, Anthony Wilson, Julian Lage, storyteller/radio personality Joe Frank, actor/musicians Jeff Goldblum and Peter Weller, Ronald Muldrow, and the Cross Hart Jazz Experience (the project that he co-leads with bass player Ryan Cross).
He also leads his own trio featuring Josh Nelson on piano and Edwin Livingston on bass. Lorca can be heard on recordings by Hugh Masekela, John Heard, Justo Almario, Ronald Muldrow, Dave Pike, Phil Ranelin, the Cross Hart Jazz Experience, and the Lorca Hart Trio.
Lorca teaches drumset at Mt. San Antonio College in Walnut, California, as well as teaching ensemble classes at both the Healdsburg High School and Junior High School in Sonoma County, California.