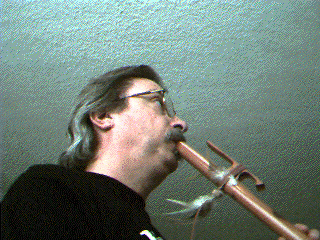 Artist Profile:
Lon Price
Lon Price began his musical development in Fort Worth, Texas, where he began playing professionally at the age of fifteen. His major influences on the saxophone were John Coltrane, Julian "Cannonball" Adderley, David "Fathead" Newman, and Hank Crawford. His playing style incorporates the "Texas Tenor" sound, as well as his jazz and rhythm 'n blues roots. He majored in jazz studies at the University of North Texas, and was a featured saxophone soloist and composer/arranger with the famed One O'clock Lab Band.
In 1971 he performed with Elvis Presley during the Texas leg of his U.S. tour. In '72 he toured with "Mr. Blue-eyed Soul," Wayne Cochran, where he met and became friends with legendary bassist Jaco Pastorius. In '73 he toured the U.S. with Tom Jones. Lon lived in New Orleans the next four years, where he really learned to play the blues! While living there he did recording work with famed producer/songwriter/arranger Allen Toussaint, recording with artists such as Patti LaBelle, John Mayall and James Cotton; and he performed with Dr. John, Irma Thomas, Ernie K-Doe, and piano legend Professor Longhair (including a European tour), among others.
In 1977 he moved to Los Angeles, his present home, recording and/or touring with many top artists, including Joan Armatrading (World Tour '79), Al Jarreau (alto sax solo on "We're in this Love Together" from the "Breaking Away" album), Barbra Streisand ("Emotion" album), and Manhattan Transfer (American Tour '94). He's been a member of local favorite band Billy Vera and the Beaters since 1979. Since 1993 he's been recording and touring with French singer/pianist Véronique Sanson.
In 1993, after two years of private study with composer and University of Southern California faculty member Erica Muhl, he enrolled at USC, where he studied composition for three years. He has studied with Stephen Hartke, Prix de Rome winner and Fulbright scholor; Donald Crockett, former composer in residence for the Los Angeles Chamber Orchestra; and Frank Ticheli, whose compositions appear on a cd with the music of John Corigliano. In 1995 his Variations for Orchestra was featured in a program of new music for orchestra performed by the USC Symphony.
Breaking News
Lon recently wrote horn arrangements and played on the new blockbuster album by Pink, "Try This". Joining him in the horn section are his good friends Lee Thornburg (trumpet), who plays on the Tonight Show with Jay Leno; Nick Lane (trombone) former Rod Stewart sideman; and Greg Smith (baritone sax), currently touring with the Eagles. His section played on the current smash single "Trouble", "Tonight's the Night", "Walk Away", and "Unwind". All of these songs were produced by Tim Armstrong of the punk band Rancid.