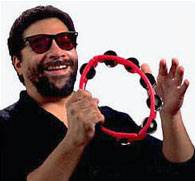 Artist Profile:
Lenny Castro
A native of New York City, Lenny Castro moved to Los Angeles in the late 70's where he quickly established himself as a first call percussionist in the prestigious Los Angeles studio session scene. Since then his talents have taken him to work with artists such as Al Jarreau, Boz Scaggs, Toto, Dolly Parton, Diana Ross, Stevie Wonder, David Sanborn, Joe Sample, Kenny Loggins, Ricky Lee Jones, Dan Fogelberg, the Crusaders, Barbra Streisand, Simply Red, Karizma, Quincy Jones, Tom Petty, Wildflowers, Dave Koz, Macy Gray, Eric Clapton, Elton John, Gordon Lightfoot, Pat Benetar, Randy Crawford and Bette Midler to name a few.
Lenny Castro is one of the world's most in-demand percussionists, and he has done his part to inject percussion into rock and pop music. "I've always been into the Latin feel, because of my heritage. But I was the only kid on the block that was listening to Hendrix, classical, country and western," he says. "Percussion can go in almost any kind of music. You have to be open-minded enough to try it."
Castro was first influenced by Armando Peraza, Mongo Santamaria, Willie Bobo, the Rascals and the Beatles. He learned by playing and watching others play at parks and beaches in New York. At the age of 15, Lenny began playing LP fiberglass congas. "Now, I gotta have wood, and I gotta have skin," he laughs.
Lenny has performed recently with Little Feat, Boney James, Peter White, and on the Francis Ford Coppola film Rainmaker with Charlie Watts, Taj Mahal, and Billy Preston. On Joe Sample Trio's Sample, he plays a kit that is part drum set and part percussion. "It's really different, almost like having a second career," he laughs. "I add the colors and highlights to the music, and that's what's fun about it."