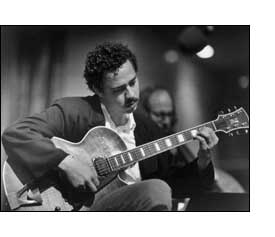 Artist Profile:
Larry Koonse
Born into a musical family, Larry has been playing the guitar since he was seven years old. At the age of fifteen he recorded an album with his father, guitarist Dave Koonse, entitled "Dave and Larry Koonse; father and son jazz guitars." In 1984, Larry was the first recipient of a BM in Jazz Studies at the University of Southern California.
Immediately after graduating from USC Larry toured extensively for six years as a member of the John Dankworth quartet, traveling all across the globe and backing up Cleo Laine. He is currently a member of Billy Child's landmark chamber sextet which just recorded a CD featuring Brian Blade. He has also toured and recorded with Mel Torme, Terry Gibbs, Bob Brookmeyer, Billy Childs, David Friesen, Warne Marsh and was a featured performer with the Percy Faith Orchestra on a tour of Japan. At the invitation of Nelson Mandela and UNICEF, Larry traveled to South Africa to perform for the first annual SAMIX festival with the Steve Houghton quintet.
He also performed with Gary Willis in Sao Paulo for a government sponsored concert at SESC Ipiranga. In his travels, he has performed at Carnegie Hall, the Academy of Music, Disney Hall, the Sydney Opera House, and has been a featured soloist with the L.A. Philharmonic, the Philadelphia Orchestra and many other orchestras throughout the world. Larry has also recorded with Cleo Laine, Al Hirt, Jimmy Rowles, Lee Konitz, Alan Broadbent, Ray Brown, Bill Perkins, Toots Thielemanns, Rod Stewart, Linda Ronstadt, Bob Sheppard, Charlie Haden and many other jazz artists.
The founder of the Player's School, the renown bassist Jeff Berlin, contacted Larry in 1995 to write a guitar curriculum which is currently used for their program. He is currently co-leading the L.A. Jazz Quartet which released their fourth CD, "Conversation Piece" (NAXOS Records) in September, 2000. The quartet's first three CD's "Astarte" (GOWI), "Look To The East" (NAXOS), and "Family Song" (NTR), have received critical acclaim for their originality and musical depth. Larry's two recent recordings, "Americana" and "Dialogues of the Heart" (with his father Dave Koonse) are now available through Jazz Compass, a record label that Larry co-founded with Joe La Barbera, Tom Warrington, and Clay Jenkins. Larry has been a faculty member at the California Institute of the Arts since 1990.
NOTABLE RECORDINGS
"Jazz Guitarists" –Volume 1, Dave and Larry Koonse, Dobre Records DR 1048 (1977)
"Jazz Guitarists"–Volume 2, Dave and Larry Koonse, Dobre Records DR 1035 (1977)
"The Caretaker"– Alan Barnes, Riza Records RRL 85-102 (1985)
"Echoes of Harlem"– Rochester Philharmonic, Pro Jazz CDJ 679 (1988)
"Woman to Woman"– Cleo Laine, RCA Victor 7999-2-RC (1988)
"Al Hirt with the Rochester Philharmonic Orchestra"– Al Hirt, Pro Jazz CDJ 687 (1987)
"Jimmy Rowles Plus 2 Plus 3 Plus 4"– Jimmy Rowles, JVC Records VDJ 1189 (1989)
"Jazz"– Cleo Laine and Toots Thielemanns, RCA Victor 60548-2-RC (1989)
"Tell-Tale Signs"– Bob Sheppard, Windham Hill Jazz WD-0129 (1989)
"Duke Ellington's Greatest Hits" – Compilation, Intersound 8010 (1989)
"Three Play"– Co-leader, Nine Winds Records NWCD 0133 (1990)
"Give and Gather"– Clay Jenkins, Alfa Records ALCA-241 (1991)
"Secret Circle"– Steve Crum, AMEL-8888 (1992)
"Nothing Without You"– Mel Torme and Cleo Laine, Concord Jazz CCD-4515 (1992)
"Two Brothers"– Bill Perkins and Herbie Harper, V.S.O.P. Records V.S.O.P. #80 (1992)
"Steve Houghton"– Steve Houghton, Blue Mesa Records R2 79195 (1994)
"Astarte"– L.A. Jazz Quartet (Co-leader) GOWI Records COG-13 (1994)
"Stories To Tell"– Julie Kelly, Chase Music Group CMD 8039 (1994)
"Hearts" – John O'Banion, Sweet Basil/ Apollon APCZ-8027 (1995)
"Misfits of Silence"– Jeff Babko, NCM West Records NCM CD 101 (1996)
"Terry Trotter Plays Michel Legrand"– Terry Trotter, Varese Sarabande Records VSD–5735 (1996)
"Breezin" – Compilation, Intersound 4764 (1996)
"A Close Encounter of the Very Best Kind"– Phil Ranelin, Lifeforce Records LFR1007 (1996)
"Fire Martians"–Bob & Dick Weller, YUSM Records (1997)
"Jazz at Midnight" – Compilation, RCA 68726 (1997)
"Vibes Alive" –Dirk Richter, Sindrome Records 8926 (1997)
"Changes" – Phil Maturano, Ghost888 (1998)
"Windsong" – Steve Houghton, SPHERC Records (1998)
"Look to the East"– L.A. Jazz Quartet (Co-leader and producer), NAXOS JAZZ 86009-2 (1998)
"Family Song" – L.A. Jazz Quartet (Co-leader and producer), Not Two Records MW 705-2 (1998)
"Journey Together" – David Sills, NAXOS JAZZ 86023-2 (1998)
"Concord Jazz Heritage Series" – Mel Torme, Concord Jazz 4811 (1998)
"What's in Store" – Jessie Wills, Canary Records (1999)
"Conversation Piece" – L.A. Jazz Quartet (Co-leader and producer), NAXOS JAZZ 86045-2 (1999)
"Mel Torme – Best of the Concord Years" – Mel Torme, Concord Jazz 4871 (1999)
"The Music of Eric Von Essen" Volume 1– Various Artists, Cryptogramophone CG103 (2000)
"Remembering Bill Evans" – Karen Gallinger, Sea Breeze Records SB3041 (2000)
"The Legacy Lives On" – Ray Brown Trio, Mack Avenue Records MAC1003 (2000)
"An Unsung Cat", The Life and Music of Warne Marsh – Warne Marsh, Storyville Records STCD8314 (2000)
"The Music of Eric Von Essen" Volume 2 – Various Artists, Cryptogramophone CG103 (2001)
"Stay Tuned" – Gerard Hagen Trio plus guests, Sea Breeze Records SB-3049 (2001)
"Secret Tea"– Chris Wabich Trio, Sea Breeze Records SB3048 (2001)
"Be Cool Be Kind" – Carla Helmbrecht, Heart Music 06-0020-60024-2 (2001)
"Enchantment" – Marcie Castro, Brazam Records BR 032 (2001)
"Three Wishes" – Miki Howard, Peak Records 8502 (2001)
"Into the Light" – Julie Kelly, Chase Music 8061 (2001)
"Faces" – Jessie Wills, Canary Records (2001)
"Americana" – Larry Koonse, Jazz Compass JC1001 (2001)
"Azure Eyes" – Clay Jenkins, Jazz Compass JC1003 (2001)
"Corduroy Road" – Tom Warrington Trio featuring Joe La Barbera, Jazz Compass JC1002 (2001)
"Bigs" – David Sills, NAXOS JAZZ 86070-2 (2001)
"Silos" – Beth Fitchet Wood, Maywood Records MWR011 (2001)
"The Andy Martin Quartet with Dave Pell" – Andy Martin, Woofy Productions WPCD113 (2002)
"Jazz Yule Love" – Terry Gibbs Quartet, Mack Avenue Records MAC1007 (2002)
"In The Now" – Bob Sheppard, Sirocco Jazz SLJ 1018 (2002)
"The Legacy Lives On II" – Terry Gibbs, Mack Avenue Records MAC1005 (2002)
"Christmas Paradise"– Tom Liston, Steel Tropics Records (2002)
"The Music of Eric Von Essen" Volume 3 – Various Artists, Cryptogramophone CG115 (2002)
"In Love Again" – Lulee Fisher, Red Road Records RRR001 (2002)
"Midnight Brew" – George Kahn, Playing Records (2002)
"Daisy" – Yoonchan Kwak, Blue Shrimp Records DK0377 (2003)
"Appassionato" – Frank Marocco, Marocco Records 2003-1 (2003)
"The Night was Blue" – Kurt Reichenbach, NBB9112-2 (2003)
"Stay Out of the Sun" – Bob Brookmeyer, Challenge Records CHR 70110 (2003)
"Whatever Bubbles Up" – Bob Florence Limited Edition, Summit Records DCD 360 (2003)
"Wide Range" – Phil Norman Tentet, Concord Records CCD-2197-2 (2003)
"Dialogues of the Heart" – Dave and Larry Koonse, Jazz Compass JC1005 (2003)
"Blue Scarlett" – Russ Reinberg, Westlake Records CDJ-001 (2003)
"Azalea" – L.M. Pagano, Bop City Records DHS1564 (2003)
"On the Same Page" – Stefanie Powers featuring Page Cavanaugh, Jambo Records 100 (2003)
"As Time Goes By: The Great American Songbook, Vol. 2 "– Rod Stewart, J-Records 55710 (2003)
"BeBop Bahama" – Tom Liston/Chris Wabash, Sea Breeze Records SB-3064 (2003)
"Sunday Afternoons at the Lighthouse Cafe" – The Jack Nimitz Quintet, Woofy Productions WPCD132 (2004)
"Like a Dream" – Darek Oles featuring Brad Mehldau, Cryptogramophone G119 (2004)
"Good Stuff" – Dave Amelee, DLA Music DLA-001 (2004)
"Final Interplay" – Warne Marsh/Larry Koonse Duo (2004)
"Snowfall" – Jazz Compass featuring Bill Cunliffe, Jazz Compass JC1009 (2004)
"Tomo" – The Music of Reed Kotler featuring Bob Sheppard, Torii Records (2004)
"Drop Me off in Harlem" – Paul Gormley quartet featuring Sam Most, Talking Dog Music
(2004)
"Eastern View" – David Sills, Origin Records 82437(2004)
"Back Nine" – Tom Warrington Trio featuring Joe La Barbera, Jazz Compass JC1010 (2004)
"Hummin' to Myself" – Linda Ronstadt featuring Alan Broadbent, Verve Records (2004)
"Stardust: The Great American Songbook, Vol. 3 "– Rod Stewart, J-Records 55820 (2004)
"Land of the Sun" – Charlie Haden with Gonzalo Rubalcaba, Verve Records B000288702 (2004)
Pending Releases
Lee Konitz, Alan Broadbent, Larry Koonse –"trios and duos" (pending release in 2005)
David Friesen trio – Audiophoric records (pending release in 2005)
Jeff Alkire project (pending release in 2005)
David Friesen volume 2 (pending release in 2005)
Three Play Volume 2 (pending release in 2005)
Calabria Foti/ Bob McChesney project (pending release in 2005)
Tony Jones Vocal Project (pending release in 2005)
Mike Fontana project onAstrolux Records (pending release in 2005)
Billy ChildsChamber Sextet featuring Brian Blade (pending release in 2005)
Gene Berkert project (pending release in 2005)
Debra Schulman project featuring Terry Trotter (pending release in 2005)
Ray Hoffman project (pending release in 2005)
Bobby Shew project (pending release in 2005)
John Leftwich project (pending release in 2005)
David Roitstein project (pending release in 2005)
Lulee Fischer volume 2 (pending release in 2005)
Chris Wabich Bill Evans project (pending release in 2005)
John Vance project featuring Jeff Collela (pending release in 2005)
Cheryl Bentyne project (pending release in 2005)