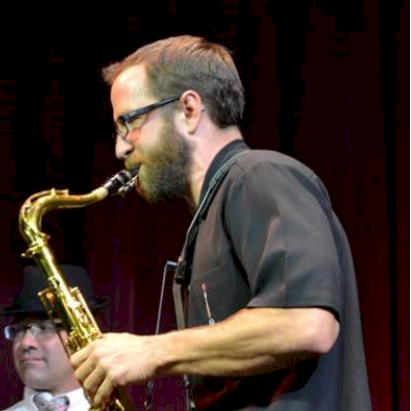 Artist Profile:
Kelly Corbin
Kelly spent much of his early years in the studios of radio stations in several Western and Midwestern states. Both his mother and father worked in broadcasting so it was not uncommon for Kelly to be found in the control room checking the mic or experimenting with the equipment at a very early age. During these years Kelly was exposed to many genres of music including blues, classic rock, hard rock, early country, and jazz. Kelly spent most of his adolescence in Southern California and his love for music took a step forward at age 12 when he became a disc-jockey at the local rock station.
Kelly studied under Don Foster, Shelley White, Charles Richard and Jeff Elwood at Riverside Community College in Riverside, California before transferring to Cal State, Northridge (Los Angeles area) where he studied under Rob Lockart and earned his Bacherlors in Music in 2002.
Kelly also attended the California Institute of Arts (Cal Arts) in Valencia, California and was awarded the Dale Melbourne Herklotz Memorial Endowed Scholarship. His private studied included lessons with Larry Koonse, Vinny Golia, Paul Novros, Bob Sheppard, Charlie Haden, Dave Roitstein, Matt Otto, and Gary Fukushima. He received his Master's in Fine Arts in May, 2005.
During the years Kelly has developed a unique style that he describes as "a mixture of all the music I grew up and currently listen to".
He provides lessons to inspired musicians of all ages and has become an accomplished performer and composer. As a composer, Kelly finds that life's experiences provide much of his inspiration. One of his favorite compositions is "Mt. Whitney" written after his father, brother, family friend, and he hiked to the top of Mt. Whitney in June of 2000.
As a participant in the Big Brother program of Los Angeles (http://www.bigbrothersbigsisterslaie.org/ ), Kelly has been matched with his little brother, Alex Eades, for over a year now.
Performed With
Dave Holland Quintet
Gary Foster
Bob McChesney
George Stone
Rob Lockart
Gary Pratt
Alex Iles
Larry Koonse
Big Bad Voodoo Daddy
Joe LaBarbera
Alan Pasqua
Darek Oles
Matt Otto
Charlie Haden's Liberation Orchestra
Studied with
Charles Richard
Jeff Ellwood
Don Foster
Shelly White
Rob Lockart
Brandon Fields
Gary Foster
Rick Margitza
Ralph Moore
Matt Harris
Bob Sheppard
Rich Perry
Chris Potter
Vinny Golia
Paul Novros
Gary Fukushima
Charlie Haden
David Roitstein
Matt Otto
Education
California Institute of the Arts Fall 2002 – Spring 2005 Master of Music in Jazz Performance
California State University, Northridge Fall 2000 – Spring 2002 Bachelor of Music Degree in Jazz Performance
Riverside Community College Spring 1997 – Spring 2000
College of the Desert and Copper Mountain College Fall 1996 – Spring 2000
29 Palms Junior High/ High School 1992-96