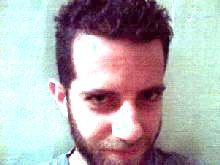 Artist Profile:
Keith Ganz

"Keith Ganz is hands down one of my favorite guitar players on the planet." – The Hook, Charlottesville, VA Weekly Arts Paper Keith Ganz is a guitarist/composer/arranger living just outside of New York City. He has performed at the Blue Note, Jazz Standard, Birdland, Sweet Rhythm, Avery Fisher Hall, and Joe's Pub, as well as Spoleto Festival USA and the Frogen Festival in Olso.
In addition to his own solo guitar recording Music for People, Keith has performed on recent/upcoming releases from such
diverse artists as jazz singer Kate McGarry, bassist/composer Sean Smith, singer/songwriter Amanda Baisinger, folk siren Devon Sproule, the free improve troupe Ensemble Gergana, and the folk/jazz/rock collective TLAB, as well as various mainstream jazz artists.
Although highly skilled as a jazz musician ("Pat Metheny-like" – New York Times, "Out of this world jazz chops" –Faze 3 Magazine, "Guitar work to die for!" –Juice Magazine), what has attracted fans and fellow musicians alike to Keith's playing is not chops but true feeling and individuality ("Quiet and full of inspiration" – dynamicplanet.com, "Some of the loveliest compositions I've ever heard…a realm of sanctity"- Minor7th Magazine).
Versatility is another of his hallmarks, feeling equally at home with a simple folk song as with improvisatory explorations: "I'm not sure exactly what the magic element is that makes me love a piece of music but I know that it's very rare and also I know that I have found it in wildly different sounding musics. I've found it in the unapologetically loud, crashing pop of Ben Folds Five and I've found it in the utterly gentleman-like solo piano of John Lewis. I've found it in the swaggering virtuosity of Sarah Vaughan or George Benson and I've gotten the same feeling from the plaintive folk songs of Devon Sproule. So, whatever musical situation I'm in,
I'm just looking for that good feeling and I know it's possible to find it there." Keith's other favorites include singer-songwriter-fingerpicker Paul Curreri ("I listened to nothing but Paul Curreri for at least a year"), the 1940s a cappela gospel group Golden Gate Quartet, and NYC singer- songwriter Richard Julian.Keith's next recording project is slated to be a trio-plus-voices date, with long time trio mates Sean Smith and Vito Lesczak and vocalists Kate McGarry and Theo Bleckmann. The recording will feature more of Keith's unusual and melodic compositions. Stay tuned…