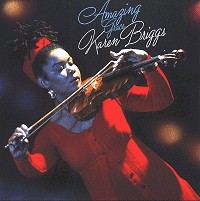 Artist Profile:
Karen Briggs
Karen Briggs, often described as "that lady in red", as the featured solo violinist with Yanni. With prominent appearances in the video and recorded versions of his "Yanni, Live at the Acropolis, Karen's talent has been exposed to literally millions of people, worldwide. She will be rejoining Yanni for a second world tour beginning early next year.
Raised in Portsmouth and educated at Norfolk State University, this Virginia native's musical style clearly indicates her exposure to Gospel and Jazz music, at a very young age. Her most prominent influences include her father, a serious jazz lover and saxophonist and her grandfather the Reverend Frank Briggs Sr., pastor to the family
church and an established keyboard player and trumpeter.
Four time winner of the amateur night competition at the Apollo Theater with jazz renditions of pop and gospel hymns, she has performed on the same stage with jazz greats Lou Donaldson, Betty Carter, Woody Shaw, Frank Foster and Clark Terry. Also, Karen has played with blues singers Linda Hopkins and Jimmy Witherspoon.
Jazz violinists have always been a rare breed, particularly in recent years, with so many who eschew electronic gimmickry. Briggs plays violin to which no enhancement devices are attached and she extracts from it a basic , pure sound, weaving her way through standard tunes, blues, jazz and gospel numbers consummate ease. "Amazing Grace" is Americas first opportunity on a national basis to experience the spirit and soul of a uniquely talented performer, Karen Briggs.