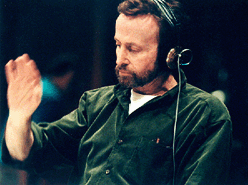 Artist Profile:
Johnny Mandel
The eventful career of Johnny Mandel is grounded by a thorough background in music that has resulted in his being acclaimed in the pantheon of American composers, arrangers, record producers and songwriters. His is a career that has had both duration and substance and continues to flourish.
He was born in New York City. At the age of 12, he was playing the trumpet and beginning to write big band arrangements.
Even this early, he knew that music would be his life's work.
After graduating from New York Military Academy, where he had received a band scholarship, he immediately went on the road working in the Catskill Mountains at various resort hotels. He then joined the orchestra of the truly legendary violinist Joe Venuti. As a member of the Henry Jerome Orchestra at Child's Paramount Restaurant in Times Square during 1945, his bandmates included two saxophonists, Leonard Garment and Alan Greenspan, who later left the music business to become prominent in Washington.
At 19, he was playing trombone and writing arrangements for the revolutionary Boyd Rayburn Orchestra and soon after, the Jimmy Dorsey Orchestra. This was followed by stints with Buddy Rich's first band (as well as Rich's 1947 and 1948 bands), the Georgie Auld Orchestra, and Alvino Rey's band, all in 1946. His first important arrangement was written in 1948 when he wrote the classic big band composition for Woody Herman, "Not Really the Blues." He also wrote for Artie Shaw and his only bebop-oriented orchestra, which was recently showcased in the MusicMasters album 1949.
Around this time, Johnny attended Juilliard and the Manhattan School of Music in order to study symphonic forms and how to write for the symphony orchestra. These studies were later continued with Stephan Volpe in New York and subsequently with George Tremblay in Los Angeles.
Also in 1949, Johnny joined the music department at radio station WMGM, where he wrote arrangements for the staff orchestra. He had his first experience in composing dramatic music for the series, The MGM Theatre of the Air, at the very end of the era of radio dramas. In 1950 and 1951, he was an arranger for one of the most important television variety shows of all time, Sid Caesar's Your Show of Shows.
He spent most of 1952 working with the great jazz orchestra of Elliott Lawrence. In 1953 he joined the Count Basie Orchestra on trombone, shortly after Basie had reformed his orchestra and remained for a year, although he first started writing for the Basie band in 1952 and continued to write for the band until 1956 as "The Most Explosive Force in Jazz" returned to prominence. The Basie band recorded Mandel's well-known composition, "Straight Life" in 1953. He remembers the period working for Count Basie as the most enjoyable experience of his musical life. He observed, "I couldn't wait to get to work every night."
In 1954, he moved to Los Angeles and before very long had become well established for writing arrangements for such major stars as Frank Sinatra for his first Reprise album, Ring a Ding Ding; Tony Bennett's The Move Song album, David Allyn's classic Jerome Kern album, Dick Haymes' Come Rain or Come Shine, Anita O'Day's Travellin' Light, Peggy Lee's Mirrors for A & M, and also wrote the song "The Shining Sea" with her for the memorable film, The Russians Are Coming, The Russians Are Coming; Jo Stafford's Jo + Jazz, Chet Baker's memorable album with strings, which helped define "West Coast Jazz," Mel Torme's I Dig the Count – I Dig the Duke for Verve, and for Nancy Wilson, Vic Damone, and Andy Williams, among a myriad of other significant singers and musicians. He also wrote arrangements for the well remembered Andy Williams NBC variety show for two years. In addition, he wrote for many nightclub acts and Las Vegas shows, including revues at the Tropicana Hotel.
The manner in which Johnny started writing for films was quite simple. He backed into them by having done everything else first. He remembers, "when I got my first real shot at a film under my own name, I Want To Live which starred Susan Hayward, I was initially petrified since I had never previously written for a film. Then, I suddenly realized that all I had done before — radio dramas and writing music for dancers — turned out to be the ideal background for scoring films. From that moment on, I felt totally at home. It was as if I'd been doing this all my life."
I Want To Live turned out to be a very successful film for United Artists and was the first one to utilize an all jazz score.
In 1964, Martin Ransohoff chose him to write the score for the well regarded anti-war film, The Americanization of Emily, starring James Garner and Julie Andrews, which resulted in his first hit song "Emily." He followed this up the next year, again for Ranshoff, writing the score for the enormously successful Elizabeth Taylor/Richard Burton film, The Sandpiper. From this film emanated one of the enduring standards of popular music, "The Shadow of Your Smile," which garnered the Academy Award for Mandel and lyricist Paul Francis Webster for the "Best Song From a Motion Picture" in 1965 as well as a Grammy. On the heels of these successes, the following year brought another Oscar nominee "A Time For Love," from the film, The American Dream. This song has become one of the most often recorded songs by jazz musicians.
Other notable film scores for Mandel include, Harper, the aforementioned The Russians Are Coming, The Russians Are Coming, The Last Detail, The Sailor Who Fell From Grace With the Sea, Being There, Staying Alive, Deathtrap, Agatha, Caddyshack, The Verdict, and many more. His television themes include the familiar refrain "Suicide is Painless" from M.A.S.H., and Too Close For Comfort.
His association with Michael Jackson, which dates to the Off the Wall album from the late 1970's, continues with their collaboration on Michael's album, Dangerous. His arrangement of "For All We Know" was contained in Barbra Streisand's album Prince of Tides and was also featured prominently in a 60 Minutes segment on Streisand. He produced and arranged two tracks on Diane Schuur's In Tribute album for GRP.
Natalie Cole's incredible success with the album Unforgettable, her tribute to her late father, was in great measure attributable to Mandel's arrangements. His treatment of Unforgettable earned him his twelfth Grammy nomination and fifth Grammy. Perhaps of greater importance is the fact that the Unforgettable track arranged by Mandel won Grammys for "Album of the Year," "Record of the Year" and "Song of the Year," and the album received an unprecedented seven Grammys.
In addition to his work on Unforgettable he produced and arranged Natalie's version of "The Christmas Song." Natalie's success and the other albums that have followed in its wake only go to prove Mandel's contention that there is a "song-driven resurgence" going on in popular music today, which he has made strong use of in his role as producer.
With this accomplished body of work, Mandel has created an ironclad reputation as a highly skilled craftsman whose reputation with jazz musicians has never wavered. In addition to his Academy Award and two nominations, he has had three Emmy nominations. A member of ASCAP since 1956, he is currently a member of its Board of Directors.
He recently produced and arranged Shirley Horn's latest album, Here's to Life for Polygram. As the noted musical biographer David Ritz recently observed, "the magnificence of the collaboration between Johnny Mandel and Shirley Horn on 'Here's to Life' ranks up there with that of Nelson Riddle and Frank Sinatra on 'In the Wee Small Hours of the Morning,' Ralph Bruns and Ray Charles on 'The Genius of Ray Charles,' Ralph Burns and Ray Charles on 'The Genius of Ray Charles,' and Ray Ellis and Billie Holiday on 'Lady in Satin,' rank among the finest collaborations of arranger/producer and singer of the last 35 years."
Most recent projects include arranging and producing Christmas albums for Michael Bolton, Diana Krall, and the Manhattan Transfer, as well as Barry Manilow's Manilow Sings Sinatra album, and Diana Krall's orchestral album, When I Look In Your Eyes.