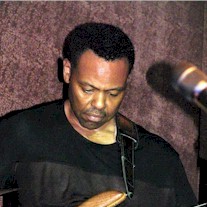 Artist Profile:
Freddie Washington
On stage Freddie is the consummate professional; offstage he's friendly, approachable and obviously totally loves his job and is a delight to meet.
Freddie Washington recently toured with "The Crusaders" in Japan using his new KSD 60's 5-String and 70's 5-string. He also had some time to lay down some tracks with his new KSD's. Freddie uses Ken Smith Masters Series Bass Strings on his KSD's as well. Freddie Washington, a long time Ken Smith player enjoyed playing the KSD for the first time at the Brooklyn Gear / Ken Smith NAMM booth in Anaheim 2003. Freddie said, "At this point in my life I don't need any new basses but these (KSD's) I like".
After the NAMM Show, Freddie called and spoke to Ken personally and expressed his interest in the 70's 5-string model
that he played while performing with Marcus Miller and Richard Bona in a three way Bass Jam sponsored by EBS, Brooklyn Gear, and Ken Smith Basses.
Freddie Washington has played with everyone from Michael Jackson, Al Jarreau, Lionel Ritchie, B.B. King, Stevie Wonder, Whitney Houston , Aaron Nevell and so many others. Freddie's music has also been featured in the movie "Men in Black", where 'Will Smith' raps on Freddie's tune 'Forget Me Not'. Freddie has been synonymous with Ken Smith Basses for many years and has extended this to the new family of Ken Smith Designed Series Basses, "KSD" Proto-J.
If you've ever experienced the 'Ready Freddie groove', whether live or on one of the hundreds of albums he's played on, then you'll understand only too well why Freddie Washington has been a first call session player for nearly 20 years.
With a CV that includes many of the biggest names in soul, funk, pop, blues, country and just about any other style that you'd care to mention, Freddie's credits read like a greatest hits of the '80s and '90s. From Lionel Richie to B.B. King, Anita Baker to Whitney Houston, and George Benson to Kenny Rogers, Freddie's laid down his trademark lines with all of them, spreading the Gospel of Groove whenever he picks up his bass. Next was another huge artist, Michael Jackson, and although the HIStory tour finished a while ago, "Ready" Freddie Washington is an in-demand player in the L.A. studio scene and had additional success recently with Will Smith's re-make of his "Forget-Me-Nots" composition for the Men In Black movie. And since there hasn't been much, if any, press on this most deserving of artists, it's high-time we learned something about this very talented man.