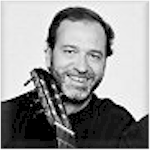 Artist Profile:
Everton Gloeden
A native of São Paulo, EVERTON GLOEDEN participated in various courses in Spain, Germany and Brazil, where he studied with Abel Carlevaro, Guido Santorsola, Alvaro Pierri and José Luis Rodrigo, among others. He also won a scholarship to Cambridge, England, to study with Chris Kilvington.
Gloeden was awarded 2nd Prize in two important guitar contests, the Palestrina International Competition in Porto Alegre, Brazil, and the Hof International Competition in Germany.
Throughout a twenty-year career, he has appeared as soloist and chamber music colleague alongside some of the most important musicians in and out of Brazil. He has given recitals at the Hall of the Americas in Washington DC, gave the first performance in Brazil of the complete lute works of Bach, as well as recitals in England, Germany (including the Frankfurt Opera House) and a recent opening recital at the International Festival of Caracas, Venezuela, one of the most esteemed of its kind in the world.
He scripted and presented the series "6 Strings-Panorama of the Guitar in the 20th Century" for Radio Cultura FM of São Paulo, one of the most important classical music radio stations in Latin America. His albums include a disc of Latin American guitar music for the American OEA label, a recording of Bach's complete lute music, and a recital CD including Ponce's Folias Variations, Antonio José's Sonata and Nuccio D'Angelo's "Due Canzone Lidie" for the Brazilian label EGTA.