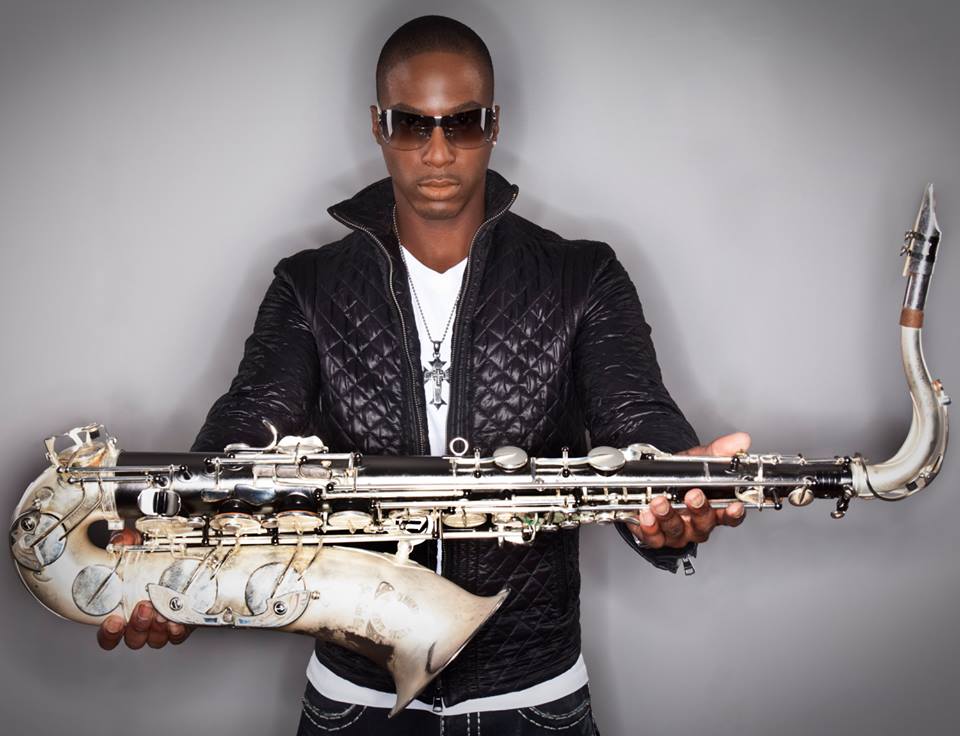 Artist Profile:
Eric Darius
Saxophonist, composer, producer, and vocalist Eric Darius likes to play by his own rules. He's a visionary who has learned to listen to his own inner voice.
Steeped in tradition and grounded in the lessons learned from his mentors, Darius is not afraid to push himself and his art forward. The Renaissance man reaffirms this credo on his sixth album as a leader and second recording for Shanachie Entertainment. "Retro Forward represents my musical statement as an artist who's not confined by any boundaries, genres, or rules.
As a younger person with roots in the Contemporary Jazz genre, I feel it's my responsibility to pay homage to the greats that founded this music, but also push it forward to a new, exciting direction that will keep the music alive and relevant for the younger generation," confesses the astute business scholar.
Eric Darius' infinite vision has allowed the musical chameleon to collaborate with such diverse superstars as Prince, Jamie Foxx, David Foster, George Benson, Mary J. Blige, and Wynton Marsalis to name a few. He has even appeared on the popular Simon Cowell TV series, The X Factor and TNT's hit TV drama series, Mob City. For Retro Forward, the Billboard chart-topping saxophonist aligns himself with a new crew of producers and writers and the result is a new found energy and sound.
"My goal was to work with producers, writers and musicians who would interpret my music from a completely different and fresh perspective, in order to reinvent myself and redefine my music. I took everything that I had done in the past and pressed the reset button. I had to put myself in a new environment and get out of my comfort zone," shares the Tampa, FL. raised and Los Angeles based musician."
Retro Forward joins Darius with Grammy-winning songwriter and producer Antonio Dixon who is one half of the hit-making FaceTone Productions team with Babyface. Dixon's credits also include work with Beyoncé, Celine Dion, Janet Jackson, Toni Braxton and Christina Aguilera, to name a few. Darius also called upon super-producer Blu2th, who has created hits for everyone from Chris Brown to Tyrese, Jordin Sparks and Boy II Men. "Their musical vision and experience working with so many other incredible artists really helped to craft the new sound on this project, breathe new life into my music, and push my playing to another level," states Darius. Retro Forward shines light on
Eric Darius' rich melting pot of influences that range from Jazz, R&B, Pop and Hip-Hop to Gospel, Reggae and Rock. "With this album, I really wanted to take my listeners on a musical journey, capturing sounds from one era to the next," shares the ambitious and adventurous saxman. "I want this album to be the soundtrack to their lives from past, present, to future spreading love and joy in the process." Darius definitely delivers on this tall order. Retro Forward opens with the exhilarating original the saxophonist penned with Antonio Dixon, "All Around The World." His soulful alto rides a jubilant funky mix that propels his saxophone to new heights. "The inspiration for the song came from my desire to reach people all around the world regardless of race, ethnicity, age, or demographic. It's that song that I envisioned people all around the world moving to," explains Eric.
As the album's title track suggests, "Retro Forward" unites old and new influences to create a triumphant anthem and an album highlight. The charged, edgy and old school throwback "Back To You," draws influence from two of Darius' all-time favorite groups. "I wanted to make a song that would evoke memories of The Jackson 5 and Earth, Wind and Fire by capturing those sounds, re-creating that magic but putting a contemporary spin on it," says Eric. Retro Forward also features the Pop dance tune "Broke Down" with a retro 90's twist.
"In order to stay relevant, I always love going to clubs to see what DJ's are spinning and what people are dancing to," confides Darius. "As an instrumentalist, I strive to make music that can even be played in a dance club. Darius teams up with Eric Dawkins for the swooning and poignant ballad "What's Her Name," penned by Dawkins. The marriage between Eric's soulful and soaring tenor saxophone and Dawkins' passionate vocals is sublime. Darius explains, "Most people may recognize Eric Dawkins as a writer and producer for artists like Mary Mary, Musiq Soulchild, Tyrese, Quincy Jones, and R. Kelly, but he is also an incredible solo vocalist. It was a pleasure working with such a phenomenal talent like him."
"Choosing a cover song for me has always been kind of difficult because there are so many great songs to choose from," shares Eric Darius, who features two covers on Retro Forward. He transforms Barry White's 1974 #1 hit "Can Get Enough of Your Love" into a sultry duet and ballad with singer /songwriter Terry Dexter. Eric works overtime on this one, as he augments his sax playing by showing off his vocal stylings. This is the first time he has recorded his vocals since his debut album Night On The Town in 2004.
The inclusion of his version of Pharrell's smash hit "Happy," a top 25 Billboard hit for Darius at radio, was an easy one as the song has been a part of Eric's repertoire during his live shows over the past year. "With so much negativity going on in the world today, I felt like Pharrell's song was that perfect song that spreads happiness and positivity, which is truly the essence of my music," states Eric.
"The crowd's response every time we performed that song live really indicated to me that it was a song I needed to record and put on my album!" Retro Forward, which is a follow up to Darius' 2010 Shanachie debut, On a Mission, features futuristic and neo-soul flavored "Never" and the song "Healing," which fuses elements of Reggae, R&B, Hip Hop and 80's Rock, representing Eric's Caribbean roots. Darius pays homage to Stevie Wonder and the sound of Motown with "Heaven Sent," featuring vocalist Dessy Di Lauro, who heads her own unique, Neo-Ragtime group.
"Stevie has always been one of my favorite artists of all time, and my vision was to make a song that captured the essence of his timeless classics," comments the saxophonist. He shows off a different side on his original "Forever Yours," a pensive ballad that features his gorgeous and lyrical soprano saxophone. It also marks the first time that he has recorded on soprano since he made his recording debut in 2004.
"Artists such as Prince, Herbie Hancock, Stevie Wonder, Michael Jackson, and Miles Davis have always inspired me because of their fearlessness to express themselves freely from a musical standpoint and allow their music to evolve with each album," states Eric Darius.
Hailing from a musical family with rich traditions in Caribbean music (his father is from Haiti and his mother is from Jamaica), Eric realized his calling for music at an early age. " I remember being nine years old and hearing a saxophonist play at my church. I instantly loved the sound…I remember being blown away by the soul and emotion of the instrument. It was as if I could almost hear the words and lyrics with each note being played…it was at that point that I fell in love with the instrument. The saxophone has a way of connecting with people in a way that no other instrument does. To me, its expressions are closest to the human voice." Darius is one of those musicians who was fortunate to benefit from music programs in the school system.
As a result the young musician has made it a mission to pay it forward and has spent a considerable amount of time exposing young students to music in the public school system with his On A Mission in the Schools campaign. He shares, "It is important to me that these types of music programs remain available for children. One of my goals is to expose young kids to music with substance and to help make them aware that music can be an outlet for their emotions…that it can be a positive influence in their lives.
By age eleven—after only playing for one year—Eric was chosen to be in Sonny LaRosa and America's Youngest Jazz Band, which consisted of young musicians, ages five to twelve. The group toured the country and even played at the prestigious Montreux Jazz Festival in Switzerland. Throughout Eric's young but already dynamic career, he's had the tremendous opportunity to travel and perform worldwide with numerous groups.
Even as a high school student at Blake High School of the Performing Arts and college student at the University of South Florida in Tampa, he had the fortune to travel internationally at such a young age. The much in demand saxman's worldwide gigs include Japan, Indonesia, London, Spain, Germany, France and Italy, among countless other countries. "My goal is to really help bridge the generational gap and make music that has infinite possibilities," concludes Eric Darius.