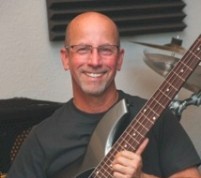 Artist Profile:
Dave Marotta
Dave Marotta was born into a musical family in Monterey, California. His father was a musician and owned the premiere music store on the Central Coast, ABC Music Center. From the age of 5, Dave played classical guitar and studied with the many fine musicians that frequented his dad's music store.
At age 12 he attended the Monterey Pop Festival and was drawn to the bass playing of Noel Redding from Jimi Hendrix's band. Shortly thereafter Dave picked up a bass from his dad's store and has been playing bass since that time.
Upon completing two years of music studies at Monterey Peninsula College, Dave moved to Los Angeles where he has been a fixture in the LA Studio scene performing on records, movies, jingles, television productions, as well as touring and recording with artists such as Colbie Caillat, the Mark-Almond Band, Burt Bacharach, Gino Vannelli, Phil Collins, Carl Verheyen, Manhattan Transfer, Bruce Hornsby, David Benoit, and many others.
Dave is actively involved in music production and conducts bass seminars and music workshops for colleges, music schools, and musical instrument manufacturers. Dave plays and is an avid supporter of Music Man basses, Ernie Ball strings, Markbass bass amplification, Paul Lairat Basses, Godin Electro Acoustic Basses, and the Basswitch IQ D.I.
During the last few years, projects have included working on Colbie Caillat's debut platinum-selling album "Coco" on Universal-Republic,Megan Nicoles cd "Escape", the movie "What Happens In Vegas" the "Wild Hogs" Movie, Kenny Loggins' "How About Now" release, and recently reuniting with renowned guitarist Carl Verheyen for a new live DVD filmed in Hollywood Ca.