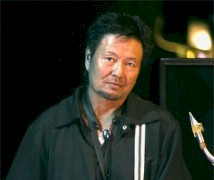 Artist Profile:
Dan Kuramoto
A college art student from East Los Angeles, supporting himself by working as a sports specialist for L.A. County parks and recreation, Dan picked up the flute as a kind of diversion to his post-hippy lifestyle.
With the evolution of ethnic studies on the college campus, and armed with a bachelor's in fine arts (painting and drawing), he found himself as the first department chairman of Asian-American studies at Cal State University at Long Beach. Searching for a 'voice,' as an Asian-American and an
artist, he continued to teach for three years, but decided that university life was not immediate enough for him.
He also found that playing music for various community fund-raisers provided a kind of expression that became a passion. It seemed that music provided a forum for art and communication that he needed.
Fueled by the work of the jazz artists he loved, and the incredible creative energy of ethnic artists like Earth, Wind and Fire, Santana, and Jimi Hendrix, Dan saw music as the vehicle to voice the music of his Japanese-American heritage and to claim what he feels is America's greatest resource– its diversity.
Then he met June. Her virtuosity as a classical Japanese musician, and her desire to create a 'new music' inspired their collaboration that became the birth of Hiroshima.