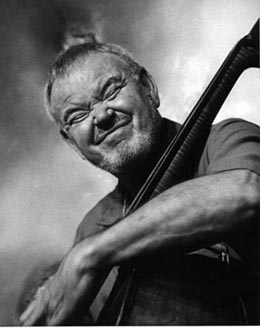 Artist Profile:
Chuck Berghofer
Born into a musical family (his grandfather had played with John Philip Sousa), Berghofer began playing trumpet at the age of eight, by which time his family had moved to California. He played various other brass instruments before turning to the double bass in his mid-teens. An admirer of Ralph Peña, he persuaded the older man to give him lessons. Two years after taking up the bass, Berghofer joined the orchestra led by Skinnay Ennis for a Midwest tour. He then joined pianist Bobby Troup where he remained for a number of years accompanying the pianist and his wife, singer Julie London. He replaced Peña in a duo with Pete Jolly, the group later expanding to a trio with drummer Nick Martinis, and then, in 1960, became a member of Shelly Manne's house band at the drummer's newly opened club, the Manne Hole.
During the early 60s, Berghofer played with numerous leading jazzmen, including Jack Sheldon, Conte Candoli, Frank Rosolino, Rahsaan Roland Kirk and Philly Joe Jones.
Like many other leading musicians on the west coast, Berghofer began playing in the film, television and recording studios. Although most such musicians are doomed to a measure of anonymity, one of Berghofer's first recording gigs, backing Nancy Sinatra on a date on which she made "These Boots Are Made For Walkin'", gave him a prominent role. As he told Jazz Journal International's Gordon Jack, "That little semi-tone figure on the bass seemed to make the record and as a result I started doing about three pop record dates a day all over town." Among the pop singers with whom he recorded in the 60s were the Everly Brothers and Elvis Presley.
He also worked on television with Glen Campbell, recorded with Frank Sinatra, and played on the soundtrack of Barbra Streisand's Funny Lady. His film work extends to a staggering 400 appearances leading to his being awarded in the mid-80s the National Academy of Recording Arts and Sciences Award as the most valuable bass player for four consecutive years.
In that decade he recorded with Mel Tormé and later recorded again with Sinatra on Duets.
Despite all his studio activities Berghofer continued to play jazz, working with many noted artists during a spell when, with pianist Frank Strazzeri and drummer Nick Ceroli, he formed the semi-regular house band at Donte's in Los Angeles.
An excellent video, recorded at Donte's in 1970, features Berghofer with pianist Roger Kellaway and drummer Larry Bunker backing Zoot Sims. Among others he accompanied were Art Pepper, Bob Cooper, Gerry Mulligan and Stan Getz.
Berghofer continued his eclectic gigging in the 90s, recording with Frank Capp's Juggernaut, Jolly, Buddy Greco and Keely Smith, and also visiting Europe. Berghofer has declared his influences to be Leroy Vinnegar, Paul Chambers and Ray Brown. He also admired the work of Scott La Faro and told Jack that, "The best soloist on the instrument was Red Mitchell . . .