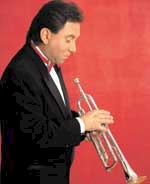 Artist Profile:
Bobby Rodriguez
For Bobby Rodriguez, it's all about giving back what you've reaped. "I've been very fortunate to have worked with some of the greatest musicians in the business, such as Quincy Jones, Tito Puente and Charlie Owens.
The Quincy Jones experience was very important to me, coming as it did early in my career, when I was in my late 20s. He is a superstar, with lots of knowledge of the business and financial sides of the music industry – and a very fine gentleman besides. And Tito, who was featured in my big orchestra a few years ago, was a jewel to work with, ju
st a very sweet, giving man.
To learn that the greatest players are also some of the kindest people you'll ever meet is really something. "That's what I hope to emulate and give back to the people I work with, especially the young musicians." Performing with Bobby at Charlie O's are trumpeters Carl Saunders and Scotty Barnhart.
Backing them up is the John Heard Trio with John Heard on bass, Roy McCurdy on drums and Danny Grissett on piano. Around Los Angeles, trumpeter Bobby Rodriguez is known as a leader, guiding the paths of seven diverse Latin jazz bands.
He leads three commercial groups: Bobby Rodriguez Latin Jazz, his small ensemble heard on last year's Grammy-nominated LatinJazz Explosion album; a 23-piece Latin Jazz Orchestra; and the Hispanic Musicians Association's Salsa Jazz Orchestra. In addition, he guides four educational projects: Bobby Rodriguez and the Jazz Adventure, the professional quintet that performs history of jazz concerts for young students in the area; the Los Angeles County High School for the Arts Studio Band; the UCLA Latin Jazz Band and the Pasadena City College Latin Jazz Ensemble.
Rodriguez has taught big band Latin jazz at Pasadena City College for a couple of years, and he joined Kenny Burrell's jazz studies department at UCLA in August. "It's the first time UCLA has had a Latin jazz program," Rodriguez says. Balancing his time as an educator and professional can prove tricky at times for Rodriguez, but he handles it with a positive, enthusiastic and pragmatic outlook. "I play the role of leader, arranger, composer, orchestrator, trumpter and contractor," he explains prior to starting his improvisation class at the high school, located on the campus of California State University Los Angeles.
"As an educator, there are other issues I have to deal with, ranging from motivating the kids to learning about improvisation, arranging, composing and playing within the 30-piece band." The East Los Angeles-born and raised musician started playing trumpet when he was 10 and discovered jazz and the joys of improvisation while a 14-year-old student at Salesian High School.