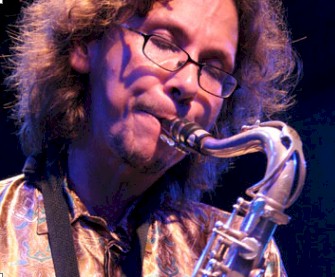 Artist Profile:
Andy Suzuki
During his 30-year career as a professional musician, Suzuki has played a wide range of genres, but he is primarily a jazzer who specializes in traditional, straight-ahead jazz, modern jazz and jazz fusion. He has performed with the legendary Dave Brubeck, "traded fours" with Al Jarreau on "Take Five," jammed on "Autumn Leaves" with Chick Corea and recorded in the studio with a long list of talented musicians. Born in Finland, Suzuki says his travels as a youngster helped open his ears to a world of music. After a year in Finland, his family spent a few years living in New York City, Philadelphia and New Jersey. He then moved to Japan for two years where he attended kindergarten and grade school and began taking organ lessons.
"Living in Japan, I was s
urrounded by traditional Japanese music and that had a huge impact on me. My family also had a big influence on shaping my musical tastes. My mother is Finnish and she passed along a deep appreciation for Finnish folk music while my father gave me his love for jazz and classical. All of these diverse experiences inspired my love of world music, which is something I try to incorporate into my playing and writing."
His musical skills were further developed growing up in Seattle where he studied with esteemed teachers, Johnny Jessen (saxophone and flute), Dave Press (piano and music theory), Ed Peterson (Snohomish High School), and Hal Sherman (Kent-Meridian High School). These formative years gave Andy experience performing across America, Europe and Japan, as well as, his first forays into the world of studio recording.
When he was 16, Suzuki moved out of his parent's house and into an apartment 50 miles away so he could attend a high school with a renowned jazz program. During his senior year, he auditioned for the music program at Cal State Northridge (L.A.) and not only earned a scholarship, but also a spot in the school's advanced classes – a rare honor for a freshman. Shocking his family and friends, Suzuki dropped out of college after his first day. "I started out in the top class and felt like there really wasn't much room for me to grow. Besides, I wanted to play music, not sit around doing biology homework daydreaming about playing music." Instead of moving back in with his parents in Washington, Suzuki decided to stay in L.A. where he would stand or fall on his own.
He struggled for several years – even living in his car for a few months – but he trusted in his talent and determination. He jammed with other musicians constantly and gigged when he could while working on his own music. "I didn't get a college diploma, but I still got an education," he says with a laugh. "All the hard times were worth it because they made me stronger, smarter and a better musician. I wanted a challenge and I got it." After 26 years based out of L.A., he has toured all over the world and recorded with artists from all genres, including Dave Brubeck, Michael Franks, Phil Woods, Larry Coryell, Oscar Castro-Neves, and Peter Erskine to name a few.
Throughout the years Andy has been performing and recording with his own group. The three CD's "Andy Suzuki", "Blue Perspective" and "Prime" all showcase his playing and composing talents. "Working on my own music is satisfying on so many levels. It allows me to combine my interests in numbers (he sites mathematics as one of his most passionate hobbies) and music, plus I get to make music with fantastic musicians that I trust so whole-heartedly."
The associations in his group go back as far as 30 years. Andy has since moved to Berlin, Germany, where he has performed with Robben Ford, Larry Carlton, Marcus Miller and Jan Garbarek. He performs regularly on sax/flute/keyboards with World music legend Trilok Gurtu and singer/songwriter Christopher Cross. Artists I've performed and/or recorded with: Trilok Gurtu Christopher Cross Jan Garbarek Dwiki Dharmawan Shankar Mahadevan Larry Carlton Marcus Miller David Benoit Dave Brubeck (and sons, Dan & Matt) Al Jarreau Melissa Manchester Deniece Williams Michael Franks Lanie Kazan Carl Anderson David Pack (Ambrosia) Don Was Chick Corea Tower of Power horn section Rick Braun Peter White Tim Wiseberg Tom Scott Phil Woods Kilauea Uncle Festive Flora Purim & Airto Gregg Karukas Larry Coryell John Patitucci Marc Antoine Richard Smith Oscar Castro-Neves Peter Erskine (Weather Report, Steely Dan) Ralph Humphrey (Frank Zappa) Vinnie Colaiuta (Sting) Alphonso Johnson (Weather Report, Santana) Abe Laboriel Grant Geissman (Chuck Mangione) Frank Gambale (Chick Corea) Bobby Shew Ernie Watts Mitchel Forman (Wayne Shorter, Mahavishnu) Jeff Richman Tom Brectlein John Robinson (Rufus, Michael Jackson) Alex Acuna (Weather Report) Shapes (Roger Burn) Jimmy Haslip (Yellow Jackets) Russ Ferrante (Yellow Jackets) Robben Ford (Yellow Jackets) Smitty Smith (Jay Leno Show) Robert Hurst (Branford Marsalis) Pauline Wilson (Seawind) Steve Huffsteter (Toshiko Akiyoshi) Jerry Hey (Seawind) Paul Jackson Jr. Michael O'neill (George Benson) Pat Kelley (Natalie Cole) Brian Bromberg Dan Seigel Tom Coster Walfredo Reyes Jr. Luis Conte Tony Maiden John Ferraro Steve Ferrone Paulinho Da Costa Munyungo Jackson Bernie Dresel Michael Landau Camilli String Quartet.
Extensive touring around the U.S. including performances at the Playboy Jazz Fest (Hollywood Bowl), Monterey Jazz Fest., The Beacon Theater (NYC), Jazz Alley (Seattle, WA), Yoshi's (Oakland, CA), Davie's Hall with San Francisco Symphony, Toledo Symphony. Tours in Japan, Brasil, Indonesia, Phillipines (Manila Symphony), Thailand, Korea, Singapore, Hong Kong. Qatar, Morocco, Algeria. Europe incl: England, Holland, Germany, Austria, Spain, Italy, Hungary, Poland, Romania, Belgium.