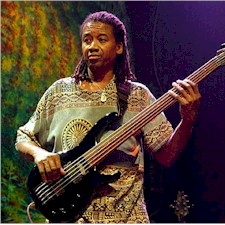 Internationally acclaimed Bassist and Chapman Stick artist Alphonso Johnson has accumulated numerous performing, recording, teaching, producing, composing and publishing credits during his illustrious career. His touring and recording credits read like a "Who's Who" of jazz and fusion, and he is considered one of the top performers in the world on his instrument.
Alphonso studied bass at the Philadelphia Music Academy with John Lamb, former bassist with the Duke Ellington Orchestra. His touring career began when he was seventeen, and it was at this time that he also began to develop his own style of fusion music. At the age of twenty-one, Alphonso toured the world with the Woody Herman Orchestra, with which he recorded the album "The Raven Speaks."
He then joined the Chuck Mangione Quartet and played on the album "The Land of Make Believe." Wayne Shorter heard Alphonso with the Mangione group and asked him to record the album "Mysterious Traveler" with the group Weather Report. Alphonso co-wrote two songs for the album and toured with the band from 1975 to 1976, during which time he recorded his first solo album for CBS/Epic titled "Moonshadows." In 1976, Alphonso became fascinated with the Chapman Stick, a ten-stringed electric touchboard. He recorded a second album "Yesterdays Dreams" for CBS/Epic. A year later, he recorded his third album, "Spellbound," featuring the Chapman Stick. In 1979, he toured the United States with the CBS All-Stars (Tom Scott, Billy Cobham, and Steve Kahn) and recorded a live album in England with rock artist Rod Argent. That same year Alphonso received a Grammy Nomination for Best R&B Instrumental for the
album "Street Life" with the group The Crusaders.
Alphonso's first film scoring attempt, which was a soundtrack for a children's film entitled "Sound of Sunshine……… Sounds of Rain" in 1983, netted him an Academy Award Nomination for Best Animated Film. A year later he joined Santana and with that group toured in Europe with Bob Dylan and recorded the album "Real Live" from that tour. Alphonso was also featured on Santana's "Beyond Appearances" for which he co-wrote two compositions. That group also contributed a performance to the Live Aid concert which was simulcast around the world by satellite.
A summary of his many touring and performing credits includes: Santana, Weather Report, The Crusaders, Bob Weir, Chuck Mangione, George Duke, En Vogue, Wayne Shorter, Sergio Mendes, Tony Williams, Joe Williams, and Gregory Hines. Discography credits include albums and CD's with Woody Herman, Weather Report, Eddie Henderson, Flora Purim, Quincy Jones, Lee Ritenour, Phil Collins, The Whispers, John McLaughlin, Jeffrey Osborne, Sarah Vaughan, Dori Caymmi, Carl Anderson, and The Meeting.
Alphonso has appeared on Don Kirschner's In Concert (with Weather Report), the Arsenio Hall Show (with Santana) and the Johnny Carson Show (with The Meeting), as well as in an MTV Video (with Jeffrey Osborne). Alphonso's teaching experience is as extensive and impressive as his work in performing, recording, touring and producing. Institutions and organizations for which he has taught include the Mesar Hause Institute of Music in Tokyo (Japan), the Bass School of Music in Koln (Germany), the Musicians Institute in Los Angeles, the National Guitar Summer Workshop, and the California Institute of the Arts.
He has conducted bass seminars and clinics in Germany, England, France, Scotland, Ireland, Japan, Switzerland, Australia, Brazil and Argentina. In 1997 Alphonso was asked to become the director of the bass department at The Los Angeles Music Academy in Pasadena, California. Alphonso has also contributed a chapter in "The Guitar Teacher's Handbook" published by Oxford University Press.  He wrote "The Bass Guitar," which was also published by The Oxford University Press in 1994. In addition, he wrote a chapter in Lessons with the Greats, which was published by DCI/Belwin in 1993. In 1995 Alphonso was asked to become a member of the group Abraxas, which is comprised of all the original members of the group Santana.  They released their debut album, "Abraxas Pool," in 1997 on the Miramar recording label.
In 1998 & 1999 Alphonso toured with the group Jazz Is Dead with Billy Cobham (Miles Davis), T. Lavitz (Dixie Dregs) and Jimmy Herring (Aquarian Rescue Unit), paying tribute to the late Jerry Garcia. Early in 2000, Alphonso was asked to join Further Festival 2000 and play with former Grateful Dead members (Mickey Hart, Bruce Hornsby, Bill Kreutzman, and Bob Weir) in The Other Ones. The band toured last fall and got together for two shows over New Year's weekend. Alphonso returned to Jazz Is Dead early in spring of 2001 for a successful tour with a new lineup and a new sound: Alphonso, Lavitz, and Rod Morgenstein (Dixie Dregs) toured with guitarist Jeff Pevar (CPR, Phil Lesh & Friends), who brought a different feel to Jazz Is Dead, and he and Alphonso introduced vocals to the group for the first time. The band also went out for a brief eastern tour in late summer.
The last half of 2001 found Alphonso busy on the road, touring with both Gregg Rolie Band and Steve Kimock Band. Both bands hit the road again this spring. Alphonso went into the studio in 2002 with DKG Music recording artist Rhian Benson finishing her CD which is scheduled for release in March 2003. He is also on tour with the Gregg Rolie Band which features Santana alumni Michael Carabello on congas and Adrian Aireas (son of Chepito Aireas) on timbales. In the fall of 2004 Alphonso was appointed to a teaching position at The University of Southern California as an adjunct associate professor of the Jazz Studies Department. Here he will be teaching bass students as well as guiding The ELF Ensemble, which is an eleven piece jazz ensemble.