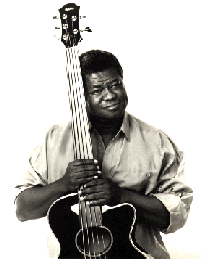 Abraham Laboriel, Sr. (b. July 17, 1947) Abraham Laboriel is a world renowned bassist and the founder of the band KOINONIA. He was born and raised in Mexico City where he received his earliest musical training from his father, a gifted guitarist and composer. His first recording was at age 10 as part of a "rock and roll" group called "Los Traviesos".
After performing in Mexico thru his teen years as both a musician and an actor, he moved to Boston where he earned a Bachelor of Music degree in Composition from the Berklee School of Music in 1972. During that time he recorded with faculty member, famed vibraphonist Gary Burton. He traveled with Johnny Mathis, Michel Legrand, and Henry Mancini and moved to Los Angeles in 1976 to begin a very diverse and fruitful studio recording career.
Abe has played on over 3,000 recordings and soundtracks. Guitar Player Magazine described him as: "the most widely used session bassist of our time". Laboriel is the father of drummer Abe Laboriel Jr. He swiched to bass guitar while studying at the Berklee School of Music. Henry Mancini encouraged Laboriel to move to Los Angeles,
California and pursue a career in music.
Since then, he has worked with artists as diverse as George Benson, Larry Carlton, the Crusaders, Ella Fitzgerald, Dave Grusin, Herbie Hancock, Freddie Hubbard, Al Jarreau, John Klemmer, Manhattan Transfer, Joe Pass, Joe Sample, Lalo Shifrin, Diane Schuur, Sara Vaughan, Stevie Wonder, Barbra Streisand, Dolly Parton, Elton John, Ray Charles, Madonna, Paul Simon, Keith Green, Lisa Loeb, Quincy Jones, Russ Taff, Engelbert Humperdinck, Crystal Lewis, Chris Isaak, Michael Jackson, and Joe Zawinul. He recorded with Lee Ritenour, Ernie Watts, and Alex Acuna in a band called "Friendship" and has continued to record and travel with Lee and Dave Grusin for GRP Records.
He also has been much in demand for work with artists like Lionel Richie, Quincy Jones, Jeffrey Osborne, Chaka Khan, Robbie Robertson, Kenny Rogers, Kenny Loggins, Ruben Blades and countless others. He was in fact voted by his peers in the LA Chapter of NARAS as the "Most Valuable Player" in the Bass chair for the three years in a row, joining Ray Brown and Chuck Domanico in that honor. When Laboriel recorded his three solo albums (Dear Friends, Guidum ,and Justo & Abraham), he recruited a cast of musicians that included Alex Acuna, Jarreau, Jim Keltner, Phillip Bailey, and others.