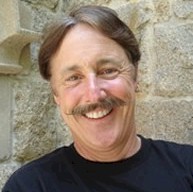 Artist Profile:
Tim Reeder
Tim Reeder Baritone and Tenor Vocalist, Martin Tenor Guitar and Ukulele. Tim has been writing songs and singing his whole life. His introduction to singing barbershop started in High School, where his music teacher, Ron Browne ("Dapper Dans" and "Yerfadder's Mustache" fame), taught him the harmony ropes.
He first performed on national television in 1976 with his Barbershop Quartet, "The Hotshots." In 1978 his college quartet was hired to sing weekends at Disneyland. An accomplished musician, Tim's prowess on tenor guitar, his ability to sing alto and scat, plus his love for swing music, lead him to form his own 1930's-era vocal jazz group called "Vocalworks." This "hip" group, prominently featured Tim's scat-singing and ukulele playing. In addition, they were featured on Garrison Keillor's national radio show, "A Prairie Home Companion."
Tim's wife Debbie sings soprano with the group, along with former Dapper Dan alumni Bruce Cooper, and on stand up bass, "Magic" Dave Eastly. Vocalworks has appeared in various countries, including Sweden. Tim has appeared on television, in commercials, and the legitimate stage too. You've probably seen and herd him on "Home Improvement," "Gilmore Girls," "That 70s Show," Disney's "Haunted Mansion" starring Eddie Murphy, and Holiday commercials for "Amazon.com" to name a few.
Tim is a member of the Frank Thorne Chapter of SPEBSQSA and is a native of Mississippi. Tim and his wife Debbie (also a musician), live in Capistrano Beach with their two sons who are both aspiring musicians.