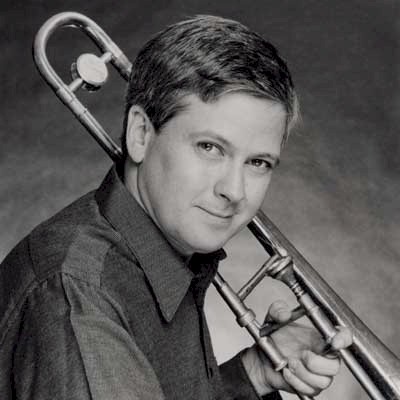 Artist Profile:
Scott Whitfield
Scott Whitfield (trombonist, composer, arranger, and vocalist) is rapidly gaining international recognition for his work with contemporary big bands, including the Toshiko Akiyoshi Jazz Orchestra and the new edition of Johnny Griffin's Big Soul Band, as well as his own Scott Whitfield Jazz Orchestra, the Manhattan Vocal Project, and the Pied Pipers, with whom Scott sings bass and serves as Musical Director.
His arrangements have been performed and recorded by such artists as Diva, Maurice Hines, The Pied Pipers, Bill Allred's Classic Jazz Band, and Pete Petersen's 23-strong Collection Jazz Orchestra. The discography of Scott Whitfield includes 5 albums as leader or musical director and more than 50 recordings with other artists.
A frequent clinician and guest artist for Bach Stradivarius trombones, Whitfield has appeared throughout the world, from Australia to Zurich, sharing his expertise on trombone technique, improvisation, composition, arranging, and jazz history. His "The J.J. Johnson Collection" (published by Hal Leonard) has inspired many trombonists, young and old. He is currently at work on "The Steve Turre Collection."
Upon settling in New York in 1993, Scott became a member of the Nat Adderley Sextet, which also included Jimmy Cobb, Walter Booker, Vincent Herring and Rob Bargad. The group's engagements at Sweet Basil led to fruitful associations with Nnenna Freelon, Frank Wess, and Steve Turre, among others.
From 1998 to 2002, Whitfield served on the jazz faculty at Rutgers, the State University of New Jersey, teaching trombone, composition and arranging, and improvisation, while also coordinating the school's combo program.
The Scott Whitfield Jazz Orchestra (first founded in 1986, while Scott was pursuing his Master's degree at North Texas State University) now has TWO incarnations: the SWJO East, based in New York; and the SWJO West, based in Whitfield's new home of Los Angeles. Both of these aggregations feature some of the top players in the business. Plans are in the works for a large project featuring the combined, bi-coastal orchestra.
For more than a year, the Scott Whitfield Jazz Orchestra East was in residence at New York's Birdland, the Jazz Corner of the World, culminating in an exciting live album, to be released later this year.
Although Scott now makes his home in Los Angeles, he continues to commute to New York for appearances. His writing has been compared to that of some of his biggest influences, including Thad Jones, Sammy Nestico, Bill Holman, Gerald Wilson, Rob McConnell, and Ernie Wilkins.